The Best 5-Star Characters in Genshin Impact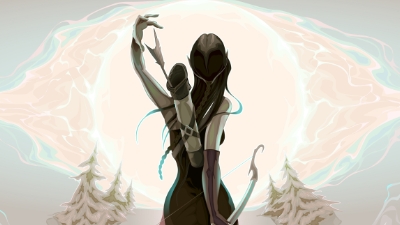 Rankings and ratings are subjective, really. But we're here to give your our ranking for the best 5 star Genshin Impact characters.
Klee
Make all the Pyro reactions you can with this little girl and her big explosions. As a catalyst user, every attack of hers applies the Pyro status on enemies. That makes it easy to set up any elemental reaction, for example, Overcharge with Fischl and Oz. There's also Vaporize with Xingqiu's Rain Swords. Give her the Crimson Witch artifact set and watch even the toughest of enemies fall to her adorable bombs.
She's a glass cannon, though, so she needs a good healer to keep her alive through the fight. Good picks are Diona (sets up Melt), Xingqiu, or Barbara (also sets up Vaporize, though only at close range). Her character banner has passed, being the second character to be featured after Venti. Don't lose hope though, a rerun will happen sooner or later.
Venti
Venti still takes the throne of the sub-DPS/Support roles. His Elemental Burst sucks up all enemies for easy targeting. Plus, it sets up Swirl as well as spreads other reactions in a big area of effect. It's no wonder Venti users are valued party members in any situation, except maybe some boss battles. He also helps in exploration, as charging his Skill leaves an air current that boosts characters up to reach high places. It can set up plunging attacks as well. All in all, he's a top-tier character you should roll for.
Speaking of, a Venti banner rerun is up after Hu Tao's banner, so don't miss that chance! His banner starts with the 1.4 update and the Windblume Festival.
Ganyu
When her kit came out, some people compared her to Amber, calling her 'Cryo Amber'. Once she was released, however, she proved she's more than a copy of Amber. With the right builds and weapons, she can even out-DPS Diluc. Videos came out of Ganyu users one-shotting bosses or showcasing insane damage. Adding the fact that she's an archer, she's dangerous at any distance.
Alas, her banner had already passed. There's no word on a rerun anytime soon, so all you can do is wait.
Diluc
Despite Ganyu beating Diluc in the DPS department, he still delivers in dishing out the hurt. The Crimson Witch artifact set is perfect for him. You can use his Elemental Skill up to three times in a row, which is perfect for the 4-set effects. Other than increasing the damage of Pyro-related reactions, using the Elemental Skill also increases the 2-set effect by half of its starting value. This buff stacks three times, one for each use of Diluc's skill.
With a maxed Pyro Damage Bonus goblet, 3 stacks of that buff, and Dawn's 20% bonus, he can easily reach 100+% Pyro Damage Bonus. He's always available on the Standard Wish Banner, so there's always a chance to get him.
Qiqi
This little zombie girl is the best healer in the game. Her Skill lets her heal the party with every hit, scaled to her ATK. While it is active, it periodically regenerates HP for the active character as well. Then, when any of the party members hit enemies marked by her Burst, they get healed as well. Her kit lets the party focus on DPS, making her a valuable member of the team. Even though her healing scales with ATK, her damage output is a little sub-par, but you won't use her as a DPS anyway.
She's always available from the Standard Wish Banner.
Conclusion on the Best Genshin Impact Characters Ranking
There are fifteen 5-star characters in Genshin Impact. Five of them are available on the Standard Wish, Diluc, Jean, Mona, Qiqi, and Keqing. The rest are from character event banners (Venti, Klee, Childe, Zhongli, Albedo, Ganyu, Xiao, and Hu Tao).
Truth be told, there are no useless characters in Genshin. It's all in how you build and use them. Zhongli, even before the Geo element buff, is almost a necessity for the Geo Hypostasis boss. Charging his Elemental Skill eats the pillars the boss creates. Now, with the buff and enough HP, he can tank almost everything, even the Oceanid Mimics' bombs.
This means that you can disagree with this list. Maybe you prefer Keqing's or Childe's speedy Critical-based kit. There's also Mona and Albedo, both support heroes who can be built as DPS characters. Rankings have a point, but they're not something you have to follow to the letter. If you genuinely enjoy playing a character, whether they're 5 or 4-star, use them!
Expect rankings and opinions to change in the future, as more characters are introduced. The game's only through two chapters of about eight, so there's much to look forward to.
Continue enjoying Genshin Impact!