Stellar Aesthetics and Dynamic Gameplay with Astellia Online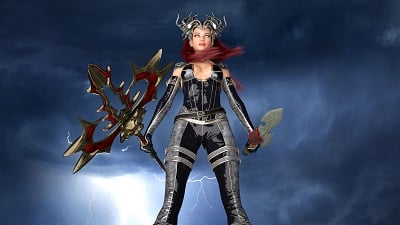 In gaming, there's no such thing as too many MMORPGs. There are just so many myths to tackle, too many concepts to develop, and way too many adventures for gamers to embark on. So even if it may seem that the market is flooded with titles such as World of Warcraft, Path of Exile, and Final Fantasy XIV, there's always room for more. Case in point: Astellia Online, an upcoming game that is set to blow up the scene. Yup, it has that much potential!
Let's see just what the ruckus is all about.
What is Astellia Online?
The latest title to burst into the MMORPG world, AO is a game filled to the brim with magic and lets you battle it out with macabre demons in a lush fantasy setting. The game features the titular Astells. These are the key ingredient that gives this particular game an edge over other MMORPGs; players go through the game with a companion right from the get-go. You can summon these Astells as automatically-controlled NPCs to help you along your journey. This creates a new gaming dynamic as players as you can use them to complement their own characters. You can either cover up your own character's flaws or further bolster your inherent strengths.
By playing the game's single-player mode, you can further unlock most of the remaining Astells. Its PvP mode, "Avalon", pits three teams for weekly dominance. Finally, there's the dungeon mode that can either be taken solo or via party. This mode is secondary to the aforementioned single-player mode in terms of Astell acquisition. Furthermore, player progress in dungeons is tracked, giving endgame players replay value.
For more Upcoming, check this out: Anthem Gameplay and Other Info
Should I be excited about this game?
In one word: YES! It isn't a mere hodgepodge mix of new components in a bid to create a new MMORPG style. Instead, it perfectly balances new dynamics (see above) with tried-and-tested ones. The result: Equilibrium achieved! Where Astellia follows other tried-and-tested MMORPG formulas is its characters.
Classes
Character classes follow the game's "Holy Trinity" system where roles are hardcoded into this:
Tanks
Healers
DPS (from the RPG term "damage per second" but is often used to connote "damage dealers" in MMOs)
To further diversify these roles, classes are branched out in specializations for players to choose from. These include Warrior, Archer, Mage, Scholar, and Assassin.
For more Upcoming, check this out: Tom Clancy's The Division 2: Better than the First Game
When can I expect to play this?
You won't have to wait long as this highly-anticipated title is set to make its grand debut by June to September of this year. With many upcoming titles slated for release this year and beyond, Chronicles of Elyria comes to mind, AO should be a forerunner—judging at least from what we've seen thus far.
The MMORPG Capital of the World
There's just something about South Korea that makes them the MMORPG capital of the world. Though there was a point in time when most of their releases were hit or miss, they now seem to be able to churn out title after title of classic games (Blade & Soul, Black Desert Online, Bless Online, and ArcheAge Online come to mind) and the rest of the world just has to keep up. Not that we're complaining about this MMO resurgence, mind you. With Astellia Online being set for release, the gaming world will be anything but dull this year. Let's hope it manages to pack the hype it has generated with substance and that many more wort ashy titles are on 2019's horizon.
For more Upcoming, check this out: PlanetSide Arena: A Futuristic Take on Battle Royale