PlanetSide Arena: A Futuristic Take on Battle Royale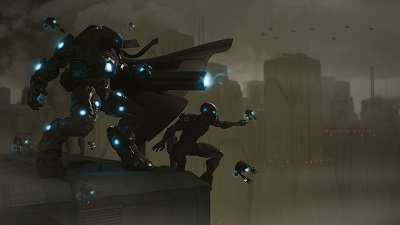 Daybreak, developers of famed titles such as H1Z1, has made another PlanetSide game in the series titled PlanetSide Arena. PlanetSide was a massively-multiplayer online first-person shooter video game that first came out way back in 2003, with a sequel released in 2012. Compared to the original game, PlanetSide 2 was popular for setting a new Guinness World Records title for "Most players online in a single FPS battle", where a whopping 1,158 players simultaneously duked it out on the game's competitive server.  Since then, the game has been completely overhauled to feature a shrinking battleground, reworked guns, spacebucks, jetpacks, orbital strikes, and big group matches.
Is PlanetSide Arena going to be just another battle royale game?
It is hardly just another Battle Royale game; it'll be a class-based buffet of FPS offerings, with maps and game types. What makes the game unique is that it will have two Battle Royale modes and a Massive Clash mode.  PlanetSide doing Battle Royale comes at an interesting time, not just for Daybreak, but for the genre as well. 2018 has seen a number of developers try (and fail) to carve out a piece of the phenomenally-popular genre with games that came and subsequently went by the wayside. Will genre staples such as Fortnite, PUBG, and most recently, Call of Duty's Blackout keep on going? Indeed, Daybreak is no stranger to Battle Royale. Its own game, H1Z1, currently live on PC and consoles, became the first game in the genre as we know it.
For more Upcoming, check this out: Exploring and Conquering an Entire Planet with the Population Zero Game
What's gameplay like?
The sci-fi shooter's Battle Royale will feature both solo play with 100-player matches and three-person squad-based play. Massive Clash, on the other hand, will feature matches of up to a whopping 500 players on two opposing teams. Eventually, game modes will have as many as 1,000 players per match. Toss in some tanks, hoverbikes, quad jetpacks and a wide array of revamped guns, and things should get fairly chaotic in a hurry!
At launch, the game will feature three different classes: Assault, Engineer, and Combat Medic, each with its own special abilities. The medic has a shield regenerating device, and the engineer has a turret that can deal serious damage, while the assault can plop down a totem in the game that heals allies and hurts enemies within its radius. Each player will start each match with the first ability primed as well as a jetpack and a personal vehicle. Other vehicles, weapons, and items can be found spread across the map.
When it comes down to progression, a lot of these titles use the Hunger Games formula where you dump everyone into the wild with nothing at all. This game, in a sense, is not exempt from that. You always land with a knife and no other weapon. You can find weapons and cash in the field called "monies" and as you make your way through outposts or swamps, you can find computers that generate certain guns for monies. At the end of every match, you get experience points that can be spent outside of the arena to unlock blueprints.
For more Upcoming, check this out: Hop Aboard the Ship of Heroes
Will the game have a battle pass system?
The game is set up with a seasonal Battle Pass similar to Fortnite. Daybreak will be launching new modes, such as Capture the Flag, Team Deathmatch, and Global Conquest in the following seasons, as well as new classes, weapons and so on forth. Seasons will be themed and there will be some kind of story running throughout, but at its core, PlanetSide Arena is an online multiplayer game. Some of the rewards in the Battle Pass include exclusive blueprints, cosmetics for each class, vehicles, and more. Each season will last for three months, and at this time there's currently no price that's being set for future season Battle Passes.
The game is available for pre-order in two different editions on Steam. The Sanctuary Assault edition that includes the Season 1 Battle Pass and the Assault Armor set as well as The Legendary Edition that has the Season 1 Battle Pass, three Class Armor sets, and the M-20 Tempest Pack.
For more Upcoming, check this out: Is Temtem Alpha More Than Just a Pokémon Clone?
Is the title worth a try?
The game looks like a fun new entry in the PlanetSide series. For Battle Royale enthusiasts, the sci-fi elements, and numerous types of vehicles available, jetpacks, plus more to come should offer up a nice change of pace from games like Fortnite, PUBG, and Black Ops 4: Blackout. For $20 you'll not only get the season's Battle Pass, but also a skin which isn't half bad. PlanetSide Arena offers something refreshing for Battle Royale and sci-fi shooter fans alike at a reasonable price.
For more Upcoming, check this out: What We Know So Far About Torchlight Frontiers