A List of the Halloween Events Gamers Can Check Out Now (Part 1)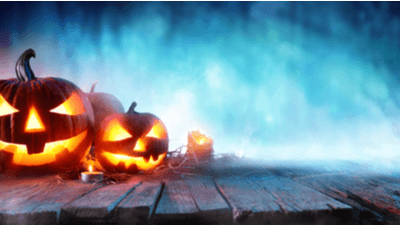 The Halloween Spirit
Halloween is the spookiest time of the year, and for decades developers have been designing events and festivals to delight their players. Now you don't even have to leave the coziness of your room to experience the festivities. These events typically offer unique, suitably ghostly, activities and rewards. PlayerAuctions has compiled a list of the spookiest, creepiest, and thrilling events from across the most popular games for your convenience.
Fortnite
Event: Fortnitemares 2021
Duration: October 5 to November 1
Sleep Tight and Don't Have Fortnitemares
Fortnitemares is a yearly Halloween event for Fortnite where players can expect spooky challenges and map changes to shake things up. There are also free rewards that players can earn by completing these challenges. For 2021, Epic Games has added in what they call the "Cube Challenges." There are also some new weapons that players can tinker with during the event, as well as returning items from previous Fortnitemares events.
Halloween-Themed Skins for Fortnite
Compared to 2020, Fortnitemares 2021 is putting a lot more emphasis on their paid skins. There will be new skins that will be revealed throughout Fortnitemares 2021 until the end of the event; they'll be split into four weeks. From there, the game will give advance notice of what skins will be released for the upcoming weeks using fortune cards. You could say that there are things in the cards for everyone this November.
It's Hollywood Time
For those that are looking for a more tourist-ey vibe, they can get on the Battle Bus and take a gander at some Fortnite cosplay characters on the Universal City Walk. Adjacent to Universal Studios Hollywood, players have until the end of October to check out the different characters that will appear throughout the month. Players can even take a picture of them as a memento.
Overwatch
Event: Halloween Terror 2021
Duration: October 12 to November 2
Halloween Terror and Co-op Fun
Overwatch is not going to miss out on the fun when it comes to hosting spook-tacular events. The three-week event, Halloween Terror 2021, is Overwatch's annual celebration of what is arguably the best season of the year. For this year's rendition of Halloween Terror, fans can expect the return of some co-op modes such as Junkenstein's Revenge and a fresh batch of Halloween-themed skins.
The Comeback of Junkenstein's Revenge
Junkenstein's Revenge is back. This eerie PvE mode is a horde-like arcade game where everything is set at the gates of Castle Junkenstein. This mode has always been a part of the Halloween Terror events, and that seems to be unchanged for this year. In it, players will have to destroy waves of Zomnic opponents and survive the mode's different levels. There will also be returning missions such as Mystery Swap, Vengeful Ghost, Three They Were, Volatile Zomnics, Shocking Surprise, and Frenzied Stampede.
New Legendary Skins for Halloween Terror 2021
Of course, festivities wouldn't be complete without having a new set of skins for the Halloween season! The Halloween Terror extravaganza is set to have several Legendary skins that'll be added to Overwatch's cosmetic library. There are also three Epic skins dropping and will be made available to players once they complete the weekly challenges of the event. Check out some of the Legendary and Epic skins for the Halloween Terror 2021 event down below!
Apex Legends
Event: Monsters Within
Duration: October 12 to November 2
Find the Monster Within
For many, Halloween is a week-long sugar rush, a reward for their efforts from trick or treating. But for Apex Legends players, it's Monster Within time. Halloween promises a bountiful haul for Apex Legends players. The event follows the footsteps of last year's Halloween event, Fight or Fright, where players had to fight off zombies -err, reanimated corpses of their deceased opponents- in the limited mode, Shadow Royale.
Monsters Within is A Teaser Event for Shadow Royale
The Halloween event for 2021 will be split into two this time around for Apex Legends fans. This means that Monsters Within will be treated as a teaser to the main event. There are new modes and maps that players can explore, the Monsters Within event is going to be followed by Shadow Royale, the gold standard of Halloween modes in the Battle Royale genre.
In Monsters Within, players will have the chance to play Arenas on Encore. Located in Boreas, Seer's home planet, the map is brilliant for teams that specialize in strong environmental awareness. As for Shadow Royale, it's a darker version of the traditional Apex Legends gameplay that players are typically used to. In the Halloween-exclusive mode, slain players come back to life in Shadow form to enact their revenge.
Skins and Apex Packs
The Monsters Within event is the perfect time for players to purchase special, limited-time packs. With the Monster Within Pack costing at 400 Apex Coins each, players are guaranteed to have at least one non-dupe event-limited item with every purchase. As for the skins that'll be releasing for this year's Halloween event, it's been confirmed that Caustic, Seer, Loba, Bloodhound, and Revenant are the Legends that have been chosen to get Halloween-themed skins for Monsters Within.
Elder Scrolls Online
Event: Witches Festival
Duration: October 21 to November 2
Witches and Dremora
Elder Scrolls Online is gearing up for the start of the Halloween festivities for brave adventurers. The Witches Festival is ESO's annual Halloween event where players can nab exclusive rewards including Plunder Skulls, XP boosts, and event tickets. Players can get a Plunder Skull container when defeating bosses. These boxes have the chance to contain Hollowjack style items, Dremora style items, and fragments of Bonedust Pigments, which can be used to craft a new pet.
Having A Ghoulish Time
If players want to get event-exclusive items and rewards, then they'll have to complete a couple of free quests. For starters, there's "The Witchmother's Bargain" quest, which can be accepted through the Holiday section of the Crown Store. By completing this quest, players will receive the Witchmother's Whistle memento.
Visiting the Impresario
Players can earn event tickets from the first boss monster that they defeat each day during the Witches Festival. They can earn up to 26 tickets total, which they can use to redeem noteworthy items at the Impresario, such as a Witches Grab Bags that contain collectibles from the previous Witches Festival events, the Marshmallow Toasty Treat Emote, Halloween-themed furnishings, and more.
Animal Crossing: New Horizons
Event: Halloween
Duration: October 1 to October 31
Halloween in the Village
Animal Crossing: New Horizons is set to have pumpkins on display for October. The annual Halloween event is the perfect time for players to purchase and craft a wide array of seasonal items. Players can expect the return of old Halloween items for Animal Crossing: New Horizons, but for this time around, there are going to be three new items for 2021. As Jack makes a return to the island, the self-proclaimed pumpkin king is ready to guzzle all the candy he can get.
New Items for ACNH'S Halloween Event for 2021
There's a whole slew of new items that players can look forward to getting for the Halloween season. The most prominent being a collection of three, brand-spankin' new Spooky Set items for 2021. The three items are the Spooky Tree, Spooky Trick Lamp, and the Spooky Treats Basket.
For those that have missed out on the previous Halloween events in ACNH, don't fret, because the older Spooky Set items will be making a return for 202–all 17 of them. Furniture and decors such as the Spooky Tower, Spooky Archer, and the Spooky Fence are perfect for those that are looking to keep the Halloween vibe all year round.
Growing A Pumpkin Patch and Getting Candy
Players can also purchase Halloween Candy that's for sale inside the cabinet in Nook's Cranny up until October 31. The candies can then be given to Jack once he visits your island on the night of October 31st in exchange for some mystery furniture. October is arguably the best time to grow Pumpkins on the island since they'll be readily available in Nook's Cranny.
Meeting Jack the Pumpkin Czar
It's not a Halloween event if Jack's not going to visit your island! The fun begins when the clock strikes 5 PM (local time) and the atmosphere changes as the villages will be putting on fun costumes for their trick or treating session. Of course, Jack the Pumpkin Czar will be there.
During the evening, players can collect Lollipops and Candy from their villagers. They can and can even exchange candy with other villagers, or give them to Jack, who will give players a variety of exclusive Halloween-themed clothing and furniture items, including the awesome-looking Spooky Carriage.
Destiny 2
Event: Festival of the Lost
Duration: October 12th to November 2nd
Festival of the Lost… and Found Dinosaurs
For this year's Festival of the Lost, we're getting an actual story, and a spooky one at that, about an unholy union between an Exo and a Vex Mind. More interestingly, however, this year's Festival of the Lost has the addition of… dinosaurs.
New Items in Destiny 2's Festival of the Lost
In line with this reptilian theme, the event's main obtainable weapon is the Jurassic Green: a scaly version of the old pulse rifle favorite, the Lincoln Green. Since the Mercury content was sunset we now have Haunted Sectors where the gist of the event takes place. Guardians will have to fight the "Headless One" by throwing exploding pumpkins as bombs. If you're digging the dinosaur rifle, there's also an armor ornament to match that can be purchased from Eververse. Another item that can be obtained is an awesome moth-themed ship.
Getting Guardians in the Holiday Spirit
Bungie is hard at work again in retaining the community's interest and this year's Festival of the Lost plays an important part in that. We're still 4 months away from the release of the Witch Queen and any content that can be enjoyed until then is a good stopgap, so players won't completely lose interest in the long running looter-shooter.
Final Fantasy XIV
Event: All Saints' Wake
Duration: To Be Decided
Hope for a FFXIV Halloween Event
Warriors of Light everywhere are in a bind as to whether this year's All Saints' Wake event will even happen. Last year, the event didn't occur, and players are worried Square Enix could be skipping it again.
There are two reasons this is suspected, firstly the Breaking Brick Mountains event was given a schedule of October 19 to November 11 this year, which is a good chunk of the dates usually slated for All Saint's Wake. And secondly, the next expansion, Endwalker, releases this November, so gamers are expecting the developers to have their hands full when it comes to readying a massive patch and focusing their efforts on promoting it.
FFXIV gamers are still hopeful that the event will continue or perhaps even be rescheduled alongside Endwalker. There's also hope for something similar with Breaking Brick Mountains—hosting two events at the same. But in a hypothetical world where All Saints' Wake was a sure thing what could we expect from this yearly Halloween Eorzean event?
An Overview of FFXIV's All Saint's Wakes of the Past
First off, the All Saints' Wake has always been filled with ghastly circus-themed festivities happening in all the city-states. Players will be able to take on themed quests that award consumables as well as pumpkin-themed costume/gear. The 2019 iteration of the event ended on a good note by giving out the circus-themed Ahriman mount.
Gamers would also be able to take on The Haunted Manor, a unique rendition of the already existing Haukke Manor dungeon. The Haunted version tasks players with fun mini-games that are devoid of combat, for something different, and beating the puzzle-like challenges will take the team to a treasure room filled with the event's goodies.
It remains to be seen if 2021 will see a return of the All-Saints' Wake and the communities' fingers are crossed.