The Best Co-Op Games to Play in 2022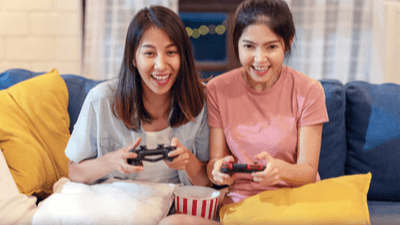 The Absolute Best Co-Op Games to Play This Year
There's something about playing a co-op game with another player that just feels so nostalgic. Maybe it's because they have that magic that brings you and your family, friends, and loved ones together for some good, old-fashioned video game fun. Not to say that single-player games are inferior in that sense, but sharing those virtual victories tastes all the sweeter when you share them with someone. Whether that's working together in perfect harmony through voice chat or sitting next to a mate with a gamepad in hand, co-op titles produce some of the best gaming moments around. And no, we're not talking about those huge online multiplayer games like MMOs and MOBAs – it's the "good stuff" that we'll be highlighting today.
It Takes Two
When people think of what's the best co-op game to play these days, nine times out of ten It Takes Two pops up in their mind. This glorious platformer takes the concept of Honey I Shrunk the Kids and instead shrinks two bickering parents down to the size of small dolls. Arguing in front of their daughter and on the verge of a divorce, Cody and May must work together to get back to their bodies after being mysteriously turned into tiny toys.
Each area/level in the game offers something different – from the nooks and crannies of a tool shed to the alcoves and boughs of garden trees. Along the way, you and your partner will meet quirky characters, including talking tools, an army of squirrels, and menacing bosses which embody old arguments between the initially-getting-divorced couple.
Oh, and we can't forget about the Book of Love, the irritating guide who pops up on your quest. By providing tools for each player like nails and a hammer or a grapple, you and your special someone will be forced to work together to reach new places as you swoop, climb, and swing to solve puzzles in this charming tale of love and hope.
A Way Out
If you're interested in playing other co-op games that have the same style as It Takes Two, Hazelight Studios also worked on A Way Out, another game that's specifically built to be played as pairs. Whether you're going back-to-back to shimmy up a well or just playing a game of basketball, the gameplay in A Way Out never feels like an added extra; it's all built for you to enjoy together in a way that's worthwhile and satisfying, regardless of the scale of the interaction. The story of two criminals trying to find a way out of prison may be simplistic to some, but it's how everything's being told through the lens of those characters is that makes it special.
Overcooked 2
Overcooked 2 sounds pretty simple – prepare a bunch of meals as chefs within a certain time limit – but without a doubt, it's the most stressful, insane, and joyful game on this list. Tasking four players with making food may sound easy, but anyone that has experience working in catering will tell you, a kitchen is the devil's workhouse. As timers tick down, you'll need to coordinate on burger frying, sushi molding, veg chopping, and dishwashing. Each subsequent level introduces increasingly complex dishes and a more varied menu, ultimately making you and your other friends' lives harder.
While there are up to four of you playing, it starts to get tricky to keep track of Overcooked 2's various stipulations and commands, not to mention having to avoid all the various pitfalls and hazards in the kitchen itself. This can lead to some frantic play, and only the most cohesive of teams will put those dishes out on time and earn a three-star rating.
There's also Overcooked which is the first game, but altogether, Overcooked 2 is the stronger contender between the two since does have some new levels and mechanics to check out (unless you get Overcooked! All You Can Eat). Just a word of warning though: this game may cause bickering and arguments among even the closest friends, family members, and partners.
Animal Crossing: New Horizons
Animal Crossing: New Horizons is the newest entry to one of the most wholesome series ever, and the total opposite of the Overcooked games that we've just talked about. It's just you, a long checklist of meditative tasks, and an island situated in the middle of nowhere. Shake trees or plant flowers; decorate your home; catch bugs with your net – everything is just so… zen. And with the Happy Home Paradise DLC now live, there are a whole lot more things to do. The co-op experience is suitably gentle too. You can't live on a friend's island, but you can visit, shop in their stores, share resources, and even complete projects together. Then, when you back to your island, you can send them a thank-you postcard for their hospitality – now isn't that sweet?
Keep Talking and Nobody Explodes
This is for you, VR gamers. Unless you're invested in the headset, you probably haven't heard of this one. Keep Talking and Nobody Explodes offers a uniquely brilliant take on co-op play that demands your utmost attention. One person wears the VR headset, while several other players sit (in the real world) and look at a how-to booklet of bomb-defusal documents. The person that's wearing the VR headset can see a briefcase with a bomb in it, along with various devices to disarm. That person's job is to describe these things to other people in the "real world". The idea is to use the bomb disposal documents to defuse the device by cooperating and talking to each other. There's a time limit which adds to the tension, and the bombs get increasingly tricky to dismantle as you play. Overall, it's bloody fun and a perfect party game.
Moving Out
Moving is no fun at all in reality, but when it turns into a whacky game that forces you to work in less-than-ideal situations, it can become a good time – that's what Moving Out is all about. When compared to Overcooked, Moving Out is way more physics-based, with every item that you pick up being able to knock over, bump, and even break other objects. Living in the town of Packmore, you and up to three other friends are a team of movers that have the same basic objective: to move all the objects in the house into a moving truck within a time limit.
Beds, for example, require more than one person to lift, leading to chaotic moments of confusion (or quarrels) as one person wants to go the other way and you the other. Tossing objects might only be an option in the earlier levels, but it's necessary for harder levels. Oh, and there are ghosts to deal with in other houses too.
Portal 2
If you're looking for a co-op game that's a bit of a brainer teaser, there's no beating Portal 2. The original Portal is a focused, arguably perfect, and hugely influential curio of game design, but if you want the best of the best, its sequel is bigger and better in every way. An expanded cast, a highly-produced campaign, and new mechanics to explore – what more could you ask for? For our purposes, it also adds an excellent co-op campaign that's completely separate from the single-player story. Portal 2's co-op is done right and doesn't feel like an afterthought at all. Playing as two emotive robots, you have to solve mind-bending problems with perfect timing and launch each other over impossible gaps. Doubling the number of portals in play makes the co-op campaign fiendishly tricky at times, but that makes it all the more satisfying when you do crack the code, especially with a partner.
KeyWe
Ever dreamt of being a tiny kiwi working in a post office? Now your dreams can turn into a reality (sort of) with KeyWe! A co-op puzzle management about a pair of Kiwi birds named Debra and Jeff that work inside a whimsical post office, KeyWe can be fun and topsy-turvy at the same time. Taking control of either bird, players must work together to type letters, sort mail, ship parcels, and more in exchange for a rating at the end of each shift. It's a big job, and it's going to take two of you to do it.
Just how do you complete these tasks, you ask? Why, by flapping, pecking, jumping, and butt-bumping your way, of course! Each of the levels in Keywe is filled with all sorts of interactive bells, buttons, and levers to tinker with. There are also a ton of cute cosmetics to unlock using the stamps that you earn from meeting your quotas, and the various mini-games are a nice touch that keeps the gameplay feeling exciting and fresh. All in all, Keywe is a delightfully panic-inducing co-op puzzle game that has fun level objectives, cute, scattered story scenes, and varied hazards that are meaningful enough to keep coming back to.