Best CoD Loadouts for the Oden in Modern Warfare and Warzone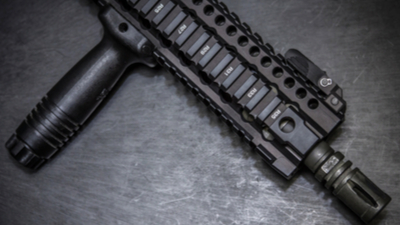 Ah, yes. The Modern Warfare Oden. Love it or hate it, you hate to go against it in Call of Duty! Though there is an argument to be made about its clumsy and slow-firing nature, this fully auto bull-pup is a fantastic weapon for both beginners and experienced players alike. It's wildly flexible, looks cool, plays great, and is extremely unique, making it a fan favorite for a lot of players.
Have you been wondering why there's so much buzz around it? Perhaps you'd like to see about getting in on the action but have no idea where to start? Or perhaps you've played with it, but it just doesn't quite feel right and now you're looking for what to do next?
Modern Warfare Oden Loadouts
Never worry, my reader friend! Whatever the reason you are here, all your questions will be answered. In this article, I'll take you through everything you could need to know about the Oden. I'll teach you about the three best loadouts you can have for the Modern Warfare Oden in detail, regardless of your play style or experience level.
What's the Best Long-Range Loadout for the Modern Warfare Oden?
You might think that it might not be great in long-range situations, but you'd be wrong! In the hands of a talented player, it can absolutely shred, and c'mon. What's more fun than that? I will admit that this setup looks pretty wonky, but that's just because of the gun itself. Odds are, if you like how the Oden looks to start with, you won't think much of it.
For this loadout, you'll need to follow this formula. First, for your Rear Grip, use the Granulated Grip Tape. For the Underbarrel, use the Operator Foregrip. For your Optic, go with the Variable Zoom Scope. For your Barrel, give the Oden Factory 810mm a shot (ha, pun!). Finally, for your Muzzle, use the Colossus Suppressor. This will cost you in mobility, but it'll jump your range and accuracy up a ton. In the end, the increase you'll see in your range alone will make it worth it. The accuracy bit is just a great bonus.
What's the Best Run 'n' Gun Loadout for the Modern Warfare Oden?
Before we get too far into this, I want to clarify something here: this will not be the fastest gun on the planet. Ever. It's just not built that way. It's a great gun, fun to use, capable of domination, and so forth, but if you're looking to be the fastest gun in the west, I'd try a different weapon. It's honestly slow. It's got one of the slowest aim down sight times on all the assault rifles in the game, so that's not exactly great for you fast twitch players. However! That being said, if you're looking to make the Oden a faster gun, have I got good news for you! This here is the best loadout for the Oden for Running 'n' Gunning.
For your Perk, use Sleight of Hand. For your Rear Grip, use the Stippled Grip Tape. For your Underbarrel, go with the Tactical Foregrip. For the Stock, try the FTAC XL Elite Comb. Finally, use the Oden Factory 420mm for your Barrel. You'll emerge with a stubby bulldog of a gun that's about as quick as the Oden can be. Give it a chance! There's definitely a reason that lots of people play with it. That being said, this will not change as much as the other two loadouts. You'll see a slight uptick in mobility, control, and fire rate.
What's the Best Warzone Loadout for the Oden?
Feeling like destroying in Warzone with the Oden? Good for you! I don't have much to say about this, so we'll skip the introduction and move right into what you need to know. Here's how to use the Oden in Warzone in the best possible way!
For your Perk, use Sleight of Hand. When in doubt, use Sleight of Hand. For your Underbarrel, use the Commando Foregrip. For the Laser, use the Tac Laser. For your Barrel, shoot for the stars and use the Oden Factory 810mm. Finally, for your Muzzle, use the Colossus Suppressor. This setup will drop your mobility slightly, but it'll boast your accuracy, range, fire rate, and control. This is also a personal favorite, because it's good all the way around—except, of course, for mobility, but then again, if you're playing with the Oden, you aren't all that worried about mobility.
Conclusion
Modern Warfare's Oden is a great, versatile, and unique weapon. It's fun to use and can fit a lot of different play styles because of its ability to be customized so well, and bonus points—it looks cool. Though it won't blow anyone away with incredible stats in any one area, it's an all around champ and a fan favorite for a reason. Give it a shot! Maybe one of these highly rated setups with the Oden will fit for you and you'll be unstoppable. If not, what have you lost? A couple games playing with a good rifle?
Until next time, get out there and have some fun!