Genshin Impact Brewing Developments Guide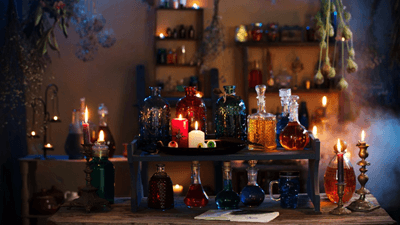 This is technically a rerun of the old Tablet Analytics even. It has many similarities, but changes will undoubtedly occur as Hajanad's research progresses. It is also a trial character event, so you can test some of them with a party composition you want to try on your Genshin Account.
Read on for an overview of the event and some tips and tricks to get the highest scores.
Event Overview
The event is a series of battle challenges. Each has 3 rounds, and you can change your party at the beginning of the next one. You can use the same characters or adjust all of them. However, you're better off changing parties each round because of the Shock-Boiled Brews.
The Brews will provide you with much-needed buffs. They last for 20 seconds. After a short interval, a new set will activate. There are four for each round, a different group from the others. There could be overlaps, but they will never be the same throughout. At least one Shock-Boiled Brew will be activated, up to all four.
In each round, enemies will appear in waves. The types will be listed before you start the challenge and before you start each game. They last for two minutes, and you have that much time to defeat as many targets as you can.
Your performance will be measured in points, and you get an emblem depending on how well you did.
Bronze (1,000 points)
Silver (2,000 points)
Gold (4,000 points)
Platinum
The event only requires players to reach gold rank for all rewards. Still, you can try to get Platinum, but it will take well-built characters and a deep knowledge of Genshin's combat systems. Also, you'll have to repeat the challenges repeatedly to increase your points and reach the highest peak.
Before you start the challenge, you can set a multiplier to boost your point gain. There are three levels, which also increase the enemies' strength in the rounds.
The Challenges
As of the time of writing, three out of four challenges are available.
Thundergrass Resonance
Trial Characters
Alhaitham, Yae Miko
Yae Miko, Sangonomiya Kokomi
Wanderer, Faruzan
Shock-Boiled Brews (only unique ones listed)
Wildergrass: +50% Dendro DMG Bonus
Thunderous: +50% Electro DMG Bonus
Enduring: +60% Energy Recharge
Thundervine: After triggering Quicken, Aggravate, or Spread, lowers targets' Elemental and Physical RES by 40% for 5 seconds
Chillwater: +50% Hydro DMG Bonus
Encompassing: +200 Elemental Mastery
Furious: After getting damaged, +250 Elemental Mastery for 10 seconds
Perspicacious: +50% ATK
Intruding: Swirling an element decreases the enemies' DEF by 25% for 5 seconds.
Combination: +50% Normal and Charged Attack DMG
As you can see, this challenge favors Electro characters, with a bonus Anemo for the last round. Of course, you can also use Anemo characters for the other rounds, especially for the fungi, as they tend to drift away from your attacks.
Thermal Differential
Trial Characters:
Dehya, Kamisato Ayaka
Yelan, Hu Tao
Kamisato Ayato, Ganyu
Shock-Boiled Brews
Inferno: +50% Pyro DMG Bonus
Frosty: +50% Cryo DMG Bonus
Smelting: Melt or Vaporize reactions increase your character's Elemental and Physical DMG Bonus by 50%
Mending: After getting damaged, the character receives +50% HP and recovers 20% of their HP.
Chillwater: +50% Hydro DMG Bonus
Strengthening: The active character's HP is increased by 50%
Celerity: Switching characters let the new one gain 15 Energy
Embrittling: Freezing opponents will boost the party's Crit DMG by 65% for 5 seconds.
You'll want to use Pyro, Cryo, and Hydro characters for this challenge. The HP buff even boosts whoever uses the Primordial Jade Cutter (if you have it) or characters that scale off that stat. Yelan is especially beneficial for this challenge.
Invasive Vitality
Trial Characters:
Cyno, Tighnari
Dehya, Nahida
Nilou, Nahida
Shock-Boiled Brews
Thunderous: +50% Electro DMG Bonus
Wildergrass: +50% Dendro DMG Bonus
Celerity: Switching recovers 15 Energy for the new character
Thundervine: Triggering Quicken, Spread, or Aggravate reactions lowers enemies' Physical and Elemental RES by 40% for 5 seconds
Inferno: +50% Pyro DMG Bonus
Incineration: Triggering a Burning reaction reduces Phys and Elemental RES by 40% for 5 seconds
Mending: Characters that get damaged have their HP increased by 50% and recovers 20% of their health
Encompassing: +200 Elemental Mastery
Vital: Bloom reactions reduce enemy Phys and Elemental RES by 40% for 5 seconds
Furious: +250 EM for 10 seconds after getting damaged
This challenge wants you to make use of different Dendro reactions. Quicken, Spread, and Aggravate for the first, Burning for the second, and Bloom for the third.
Armed and Armored
(Unreleased at the time of writing)
Brewing Developments Tips and Tricks
Your #1 priority is to use the Shock-Boiled Brews as much as possible. Pick your characters to take advantage of this. Do you need to do a specific reaction? Only use the elements involved. You'll want to use DPS characters of the elements the Brews boost. Otherwise, you'll lose out on triggering the needed reaction and damage because it won't be buffed.
A case can be made for Anemo characters for their CC abilities. They can group up the enemies and increase your elemental damage through the Viridescent Venerer set. It would only work for something other than Dendro, Geo, and Anemo characters. Unless a Brew specifically boosts Anemo DMG or Swirl DMG, you'll need only one.
If you're trying to get the highest points, use your own characters. Yes, testing and trying out characters you don't have is fun. The problem is you need to get used to their mechanics and rotations. You don't have them to use, after all. The unfamiliarity would lead to less efficiency and lower overall points earned.
You already have set compositions for the characters you have and know them well. Trying to mix in an unfamiliar character would take getting used to, and you will need more time to do that. For the best results, use the ones you have.
As much as possible, be attacking or using an ability constantly. You'll need every second of the two minutes each round to deal as much damage and defeat as many enemies as possible. This is where Anemo CC users can help unless the enemy isn't affected much by their skills. Examples are large enemies such as Lawachurls and automatons.
There are 60+ characters in the game now, and it can take time to figure out who to use. You'll want to constantly deal damage, so take the support characters who deal damage with every ability or can apply elemental auras for reactions. That said, Bennett is a somewhat problematic character. His Burst can apply Pyro, but only when the enemy is standing within its circle. A better healer would be Barbara or Kuki Shinobu.
Unless you need a specific element or character, you'll want one on-field DPS and 3 sub-DPS. If one can double as a healer, that's excellent for your composition. Also, you can ignore your Geo characters unless a Shock-Boiled Brew buffs their damage or involves shields.
It might take a few tries, but learning where the next group of enemies will spawn is a big help. This reduces the time you waste trying to find them and get the most out of the 20-second Brews that buff you.
The most crucial point of all is to have fun! Enjoy the event and the combat it offers. You'll find that no matter your results, you'll be happy with it as long as you do so. You don't even need the Platinum; you can get the rewards with only a gold emblem, which is a much smaller goal.
So don't worry about your ranking, and go with the flow of combat. Keep playing and enjoying Genshin Impact!