Best Mobile MMOs to Play in 2023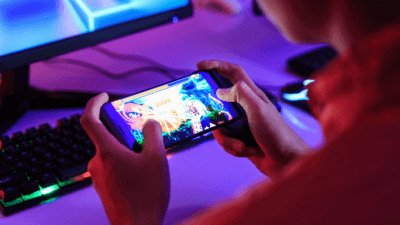 MMORPGs are a dime-a-dozen on the Play Store and App Store these days. While it's good to have variety, it makes it challenging to find MMOs that are actually good. Mobile devices have become the ideal way for people to play games but don't want to fork over thousands of bucks for a PC. With phones nowadays having impressive processing speeds, downloading games from your phone's proprietary application stores is as easy as pie.
MMORPGs are one of the most loved and hated categories in gaming. On the one hand, MMOs are touted for having a sea of predatory microtransactions. But on the other hand, there are true gems where you could immerse yourself for hundreds of hours if you know where to look. If you're looking for the best mobile MMORPGs to play, we've listed a selection of titles that could potentially be your next time-sinker.
Ni no Kuni: Cross Worlds
Level 5 always has the most aesthetically pleasing visuals. Their games always have a Studio Ghibli-esque look, which is the main reason why I recommend Ni no Kuni: Cross Worlds. Cross Worlds just launched outside of Japan last year on iOS and Android devices, and if you're the least bit familiar with the IP, you know the art's going to be mint.
It's got all the features you'd expect from a modern MMO. Combine that with its beautiful graphics, and you have a must-play title that's at least worth trying. Ni no Kuni: Cross Worlds offers a unique storyline and five character classes, including a Destroyer armed with a hammer and an Engineer that has a way with firearms. You'll be diving into a fictional VR game that aligns with the world of Ni no Kuni. From World Boss Events to rebuilding a fallen kingdom, there are a lot of subquests you can do while you do the main story.
If I have to list a caveat for Cross Worlds, it utilizes NFT and blockchain tech, which is an immediate turn-off for some. It also has a history of botting problems. If those things don't deter you, Ni no Kuni: Cross Worlds can be a joy to play.
Toram Online
Toram Online is special in the sense that it offers no autoplay. That's right—if you want to get from Point A to Point B, you must walk yourself. But make no mistake; it's one of the finest MMORPGs you could ever play on your phone. That's because it was developed by Asobimo, who you might know as the Japanese powerhouse that curated titles like Alchemia Story, Avabel Online, and Iruna Online.
Toram Online's story takes place in an open world revolving around adventure and magic. At the start, you wake up in a mysterious realm with no recollection of who you are. An amnesiac main protagonist isn't anything new these days, but with anime-style graphics, real-time gameplay, and a beautiful soundtrack, Toram Online delivers an immersive experience. The game also has a deep character customization system for you to delve into, enabling you to experiment with multiple builds and playstyles.
Black Desert Mobile
Black Desert Mobile is probably my most normie take on this list, but it's just that good. It features tons of PvP content, action-packed combat, and immersive graphics, offering an entirely different experience altogether compared to its PC counterpart. There's a focus on dodging thanks to the touch controls, and classes are balanced differently. It's not a problem since both iterations don't support cross-play, but it's still worth noting especially if you plan to migrate to the PC version soon.
The story revolves around two factions, the Kingdom of Valencia and the Republic of Calpheon. Outside of that, Black Desert Mobile has the usual MMO mechanics. You have your main quest, side quests, PvP modes, and fast-paced combat mechanisms. The game's social features are also worth mentioning. You can interact with other players by joining guilds and participating in large-scale PvP battles.
If you're all about the visual details and graphics above all else, give Black Desert a shot. Its ultra-realistic appearance is pure eye candy, and once the spells start flying, it becomes all the more impressive. Even if you're not into the whole mobile gaming shtick, Black Desert Mobile is still worth looking at.
MapleStory M
MapleStory M is a charming 2D MMO that is easily accessible to anyone. Developed by Nexon, it's a spinoff of the original MapleStory and follows the same plot. There's an exciting character lineup, each with unique strengths and abilities. The game has as much content as Albion Online and RuneScape, but it's streamlined in a cute, 2D package instead of being overwhelming. This results in MapleStory M feeling less grindy.
On the opposite spectrum of Toram Online, MapleStory M features an autoplay function that lets the AI do simple tasks in the game for you. That includes doing quests, slaying enemies, and traversing to different locations. The function is optional, but it's there if you want to use it. Besides that, there's a wide selection of quests, zones, dungeons, and classes for you to enjoy in the game.