WoW Darkmoon Faire Guide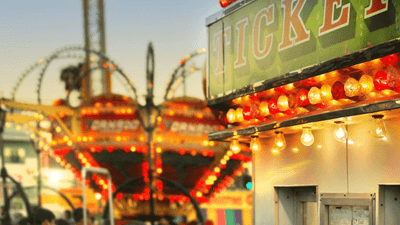 Darkmoon Faire is back in World of Warcraft! This time, it has new offerings to players. Let's look at its schedule and the activities you can do in this week-long event.
Darkmoon Faire Schedule
The fair appears on the first Sunday of the month and will last until midnight on Saturday. That's a week of revelry and fun! Don't worry about missing out because it'll recur until further notice. You can get anything you missed the next month it comes around.
There are portals in Elwynn Forest for the Alliance and Mulgore for the Horde. There are no level requirements for entering the fairgrounds. If you can find the entrance, you can get in. Note that you can't enter the grounds outside of the week that it's active. Some NPCs in Stormwind, Orgrimmar, and Dalaran will teleport you to your faction's portal to the fair, but this convenience comes with a cost.
Darkmoon Faire Activities
Darkmoon Dance Competition
Groove to the beat and dance your way to the top spot of the Darkmoon Faire Dance Competition! Do your best to match the steps of your competition and keep your moves as smooth as silk. The more challenging your opponent is, the better the rewards.
Achievements Related to the Activity
First Dance: Participate in the Darkmoon Faire Dance game
Don't Stop Dancing: Participate in 30 Dance games.
You Got the Beat: Attain a perfect score on Easy.
Feeling it: Get a perfect score on 10 Easy games.
What a Feeling: Achieve a perfect score on Medium.
Can't Stop the Feeling: Obtain a perfect score on 10 Medium games.
Make You Sweat: Do a perfect game on Hard difficulty.
Maniac on the Dance Floor: Have 10 perfectly scored Hard games.
Dancing Machine: Get the 'Feeling It,' 'Can't Stop the Feeling,' and 'Maniac on the Dance Floor' titles to obtain this one.
Notable Rewards
Dance Dance Darkmoon Toy: Summons a stage but forces the caster to dance continuously.
Head to Dance Master Simon Sezdans to complete the Dance Dance Darkmoon Daily Quest. It lets you earn accolades you can exchange for a Darkmoon Game Prize. You can dance anytime using a Darkmoon Game Token.
The Darkmoon Arcade
Lynnish Hardmode, the creator of the Darkmoon Rollercoaster, has also become an Arcade Proprietor. She brought some Azerothian arcade favorites, such as:
HexSweeper: Move through a minefield, identifying booby traps along the way. A misstep results in instant death, so take care!
Rune Matching: Match 3 or more runes to earn points. The more runes you match, the higher the bonus points you can get. You might unlock a hidden difficulty level when you earn 100,000 points.
Bull-E: Untangle the circuits for poor Bull-E. There's only one difficulty, and if you give up, you'll have to start from the beginning.
Barrels o' Fun: Pick the identified barrel after they've all been mixed up.
Remembery: Remember where the shells are and match them.
Totemic Matrix: Turn all the totems into the water ones. It's not as easy as it sounds since some totems are linked together.
Opening the console for the day requires a Darkmoon Game Token, but you can play as long as you want. This activity has no other reward than bragging rights and your high score, just like in a real-life arcade.
Concerts to Enjoy
Every half-hour, Blight Boar plays literal death metal. Their music summons a Death Metal Knight that would try to upstage them. Defeat the knight and his ghouls to save the concert. The band would reward those brave fans with the following:
Chain-Linked Cage Helm
Lightly-Padded Cage Helm
Leather-Lined Cage Helm
Steel-Reinforced Cage Helm
Blight Boar Microphone: lets you transform into Devlynn Styx and perform a Blight Boar song
Necromedes, the Death Resonator: an epic transmogrifiable guitar
For a more relaxed concert, the Tauren Chieftains (Samuro, Sig Nicious, Bergrisst, Mai'Kyl, and Chief Thunder-Skins) play near the boardwalk on the grounds. They're there all week long, so you can jump in anytime to listen to or dance to their music.
Sayge, the Fortune Teller
What kind of fair is complete without a fortune-teller? Answer their two questions, and you can get a variable buff depending on your choice. You might also see a glimpse of your future if you talk to them.
Rides, the Staple of Fairs
The Darkmoon Faire Roller Coaster is Azeroth's tallest, fastest, and longest wooden roller coaster. Even goblins, gnomes, and dwarves can ride it with no height requirement. Experience its highs, lows, twists, and turns all at a thrilling speed, leaving you at the edge of your seat.
Riders get the WHEE! buff, increasing experience and reputation gain for one hour. It can help you collect the Heritage Armors and unlock Allied Races.
Players who want a more relaxed way to get the buff can ride the Darkmoon Carousel. You can choose to get on a rocket, gryphon, wyvern, dragon, or murloc and take your time to spin around. After a few turns, you'll get the WHEE! buff.
The Darkmoon Faire Petting Zoo
You can pet animals from the farthest reaches of Azeroth here. Though there aren't any rewards for interacting with them, it's rare to see all these creatures together. Just be careful not to look the basilisk in the eye!
Bosses
The Darkmoon Rabbit, along with the Moonfang, stalk the edges of the fair. They might ruin the festivities, so brave adventurers are called to defeat them. Lucky ones can get the following items from defeating either boss:
Darkmoon Rabbit Battle Pet
Moon Moon Battle Pet
Moonfang Shroud
Moonfang's Paw
Moonfang's Pelt
Shimmering Moonstone
Players can also sail to the east of Darkmoon Island to fight Erinys. Those who do so can receive the Ring of Promises, which starts a quest. In the end, Chester rewards them with the Ring of Broken Promises Toy.
Darkmoon Faire Quests
There are daily minigames, profession quests, artifacts to collect, and more. You'll never be bored in the Darkmoon Faire.
List of Daily Minigames
Test Your Strength
Firebird's Challenge
Whack-a-Gnoll
The Humanoid Cannonball
Shooting Stall
Aim at the Turtle
Tank Battle Simulator
Profession Quests
If you're an avid crafter, you can help make the Darkmoon Faire more fun for others. Earn more Game Tokens and Darkmoon Prize Tickets for your trouble!
Darkmoon Artifacts
When you first arrive at the island, you get the Darkmoon Adventurer's Guide. It will let you acquire Darkmoon Artifacts while doing other activities outside the island. Questing, dungeons, raids, and PvP will contribute to your collection. Turn the artifacts in the fair and get unique rewards!
Daily Pet Battles
Jeremy Feasel and Christoph VonFeasel would like to duel with battle pets. You can fight them and receive Darkmoon Pet Supplies for a fee of one Darkmoon Game Token. You won't know what you'll get, which could be a rare Darkmoon Eye or Syd the Squid pet!
Darkmoon Deathmatch Pit
For any PvP enthusiast, the Pit is open 24/7. If you're feeling lucky, you can fight for the prize at midnight and every three hours. Winning might unlock the Master Pit Fighter quest, which is how you can obtain the Returning Champion Heirloom trinket.
Racing Challenge
Down by the boardwalk, you can race around the island. Avoid the obstacles, use speed boosts, jump with springboards, and get ahead of your competition! The fastest racers would get the best rewards, so run with all your might.
Rewards you can get are:
Darkmoon Game Prize
Darkmoon Cannon
Darkmoon Gazer
Race MiniZep Controller
Checkered Flag
Gaze of the Darkmoon
Attraction Sign
Everlasting Darkmoon Firework
Fire-Eater's Vial
Rewards
You can receive Darkmoon Prize Tickets by participating in most of the competitive activities mentioned above. Here are the rewards you can exchange them for:
Mounts
Darkmoon Dancing Bear
Swift Forest Strider
Darkwater Skate
Pets
Darkmoon Monkey
Darkmoon Cub
Darkmoon Hatchling
Darkmoon Turtle
Darkmoon Balloon
Darkmoon Tonk
Darkmoon Zepplin
Balloons
Horse Balloon
Murloc Balloon
Wolf Balloon
Darkmoon Balloon
Transmogrifications
Cloak of Darkmoon Faire
Darkmoon Hammer
Toys
Sparklepony XL
Darkmoon Seesaw
Darkmoon Whistle
Darkmoon Items (all items are preceded with 'Darkmoon' in their name, except for the second one)
Top Hat
Inky Black Potion
Flower
"Tiger"
"Sword"
"Snow Leopard"
"Nightsaber"
"Cougar"
"Dragon"
"Gryphon"
"Murloc"
"Rocket"
"Wyvern"
Storage Box (16 slots)
Besides the above, you might fish up the Severed Crimsonscale Head or the Severed Azurefin Head on the island. They're all the rage in this Darkmoon Faire! Vendors also offer gear, profession equipment, and a lot of achievements.
Enjoy the Darkmoon Faire!
With all of the above activities, it's a welcome break from trying to save Azeroth from various world-ending dangers. It's a fair where you can relax and have fun away from the faction rivalry and performance as the hero of Azeroth.
Remember to have fun, and keep enjoying World of Warcraft!