Fortnite Chapter 2 Season 3 New Content and Map Changes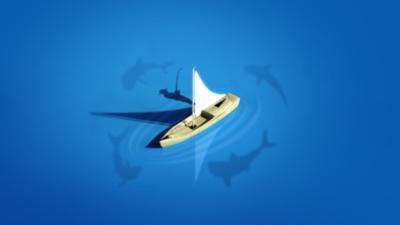 Fortnite Chapter 2 Season 3 is finally here! We are at the thirteenth season of Fortnite: Battle Royale and it feels great to see that Epic Games has managed to deliver some pretty fresh content this time. With a new Battle Pass having a DC skin and a version of one of Fortnite's most iconic skins, a map partially submerged in water, rideable sharks, a unique take on challenges, and some new Mythic weapons, this season is already off to a great start. A bunch of leaks turned out to be true and the season is looking pretty promising already! Like with every seasonal update, Epic Games has delivered a lot of new content in this update as well. This Fortnite Chapter 2 Season 3 New Content and Map Changes review will take you through everything that's new this season.
Fortnite Chapter 2 Season 3 Battle Pass and Theme
Chapter 2: Season 3 is based around an aquatic theme, with the Battle Pass containing scuba diver skins and Aquaman himself. The Battle Pass is available, as always, for 950 V-bucks in-game.
Just like the last season had Deadpool in it, this season has an official Aquaman skin in it with selectable styles. The Battle Pass is pretty exciting this time, starting off with a few basic diver skins that get attachments and masks as upgrades, with one of the Tier 1 skins also having an incredible evil Drift upgrade style at Tier 100! Aquaman is currently unobtainable and will be for a few weeks, which gives you a lot of time to grind the rest of the Battle Pass instead. There's a robot version of Meowscles, a few great emotes, and even a meteor glider that you can stand on as you descend onto the map.
The highlight of the Battle Pass is surely the main Tier 100 skin: Eternal Knight. This skin is the female version of Ultima Knight from Season X and has some of the best selectable styles seen in a Fortnite skin. One of these styles is also a version of the original Black Knight, Fortnite's first ever end-of-Battle-Pass skin. The final stage will require you to reach Level 160 (which some players have already reached), which is significantly lower than what the golden Agent Peely style required last season.
We also kicked off the first week of the season with an official Loserfruit skin, which is the second skin from the Icon Series, a series of cosmetics based on popular content creators.
Fortnite Chapter 2 Season 3 Challenges and XP
The challenge structure this season is much simpler than last time. Since we don't have to select paths (such as Ghost and Shadow in Season 2), you don't have multiple lists of challenges for the same skin.
This season is all about three things:
Weekly/Style Challenges
Quick Challenges
Punch Cards
Weekly and style challenges have been around for a while now, and nothing has really changed about them. Quick Challenges are a new addition this season and will appear on your main screen. Quick Challenges are a list of infinite challenges, and only five are accessible at a time. Completing missions replaces them with different missions, and all of these reward 1.4k XP. You also get five 14k XP challenges each day, which get replaced by the 1.4k XP challenges when you complete them. Punch Cards, on the other hand, are seasonal checklists where you can obtain 14k XP for completing challenges such as opening a certain amount of chests, getting a certain amount of kills with a particular weapon, etc.
Fortnite Chapter 2 Season 3 Map Changes
As evident from The Device event, the Fortnite map is now partially submerged. There are plenty of new locations around the map and there is a lot of water especially in the left half of the map. Mobility is never an issue, which is quite surprising, considering how we have always associated in-game water with slower movement. There are plenty of boats around the island for you to move around with your squad. The Agency has turned into The Authority, and there are new places of interest: The Fortilla, Rickety Rig, and Catty Corner. The Authority is definitely a simpler version of the tiresome Agency, and has a chopper on top too.
The most unique addition of this season is definitely the sharks. Sharks are found swimming around in random locations, have a high HP bar, and reward you items on being killed. They also jump out at you and can damage you, so watch out! One of the most fun things to do with sharks is to bait them with a fishing rod and ride them around. This allows you to ride the shark using a fishing pole to link you to it. You can then control the shark like you're water skiing, and the shark won't be hostile as long as you're controlling it!
New Items and Mythic Weapons
The Charge Shotgun is Fortnite's newest shotgun and the only new main weapon added to the game. The gun needs to be charged by holding down your fire key before shooting it. It packs quite a punch, but I'm not sure if it's a good addition to the game considering how quick build battles are now. There just isn't enough time to charge the gun when you need to take quick peek-shots.
The Pump Shotgun has been vaulted, the Hunting Rifle is back, along with Chug Splashes, Stink Bombs, Bolt Action Snipers, a version of the Chug Jug, and even the P-90. There is a Mythic Grenade Launcher and a Mythic Charge Shotgun, the former of which basically launches Impulse Grenades. The Mythic Grappler has been upgraded to have insane range but a mandatory glider redeploy when you descend.
Endnote
This season definitely has a very fresh vibe to it, and the community is mostly agreeing that this is one of the best Battle Passes yet. The water levels will be falling with each update, for those of you who don't enjoy the water as much. We hope this Fortnite Chapter 2 Season 3 New Content and Map Changes review helped you get a quick overview of the changes, and we hope you're enjoying the season as well. See you in the Lobby!