Fortnite Chapter 2 Season 6 Release Date and Expectations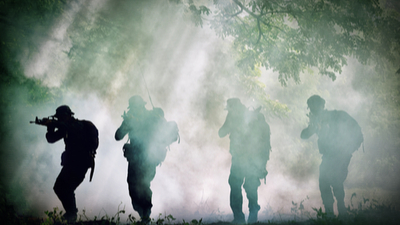 We're more than halfway through Fortnite Season 5, and we're almost halfway through Chapter 2 itself. Fortnite has picked up speed on its storyline in the recent seasons and there's a lot going on. The Zero Point has destabilized, an unknown NPC has entered the world through an alternate dimension, ridiculously powerful "hunters" are going around trying to eliminate players, and the IO guards are on the loose. Here's everything you need to know about the release date, storyline, theme, and content of Fortnite Chapter 2 Season 6.
What will be the theme of Fortnite Chapter 2 Season 6?
The theme of Fortnite Season 6 is pretty much confirmed, given the pattern Epic Games has been following till now. The recent seasons of Chapter 2 has the same theme as the corresponding season of Chapter 1. The only exception is Season 1 (which didn't exist in Chapter 1) and Season 2.
The fifth season of each chapter was about interdimensional travel – Chapter 2 with the Zero Point destabilizing and Agent Jonesy coming in with his army of hunters, and Chapter 1 with the introduction of Rifts, that brought in Drift, Ragnarok, and other characters from alternate dimensions. The fourth season of each chapter was superhero-themed – Chapter 2 with its Marvel crossover and Chapter 1 with the Omega-Carbide storyline. The third season of each chapter was about astronauts – with Chapter 2 having the story of Siona's spaceship, and Chapter 1 having the iconic astronaut skins such as Dark Voyager.
Following this pattern, Season 6 has a very high chance of following the "darkness" or Cube Energy theme from Chapter 1. The purple Cube from Chapter 1 – named "Kevin" – is likely to return in some shape or form. The energy plant at Steamy Stacks already has a miniature cube model, and is known to harness Cube energy to generate power.
What will be the storyline of Season 6?
We don't know yet how Cube Energy will factor into the story of Season 6, but some plot development from Season 5 is pretty obvious. At the beginning of Season 5, we finally got a glimpse into Agent Jonesy's world. Apparently, he works in an organization that knows about the Zero Point and can control its power. The IO Guards that work with them are also against us, and it is theorized that IO stands for "Interdimensional Order". Jonesy is ordered by someone higher up in the organization – a mysterious woman we know nothing about – to enter out world, stabilize the Zero Point, and use the hunters to make sure none of the players (us) escape.
During this call, the woman also asks him to avoid drawing the attention of the Seven, but by this point, Jonesy has left the office in a hurry. It is almost certain that Agent Jonesy will do something that will alert the Seven, and we will finally get some more information on this mysterious group. The Seven were last seen at the end of Chapter 1, and we only know about three of its members: The Visitor, The Scientist, and Paradigm. We don't know what their intentions are yet, but it seems like they are on our side.
It is very likely that the pre-season live event will have Agent Jonesy trying to return to his world through the Zero Point, but failing because of The Seven.
What skins and content can we expect in Season 6?
The original Chapter 1 Season 6 released during Halloween and had quite a few skins themed accordingly, but this time we can possibly expect some Cube-themed skins along with the fourth member of The Seven. One thing to remember is that the Seven skins have always been time-limited. The Visitor was locked to Season 4, The Scientist to Season X, and the Paradigm appeared for a brief period in the Item Shop. While Epic did say that Paradigm was a limited time skin, she is likely to return in Season 6 if we really get a new member of the Seven. An Agent Jonesy skin is also very likely, given how he is at the center of the storyline right now. We might also get some Zero Point-based skins, and a skin for the head of the IO agency.
As far as content goes, the Chapter is only going to get better from here. Following the path of Chapter 1 where we started getting more LTMs, Epic has finally began adding some of the classic Chapter 1 modes such as Floor is Lava. According to leaks, Team Rumble is also going to get more variations – and one of them (One Shot) is already live. Among weapons, we can definitely expect the Pump Shotgun to make a return. The IO Agency can be expected as a POI on the map, and we might even get other old locations like Lucky Landing and Shifty Shafts returning to the Chapter 2 map.
When does Fortnite Season 6 release and when is the pre-season Live Event?
Fortnite Chapter 2 Season 6 is expected to release on March 16. However, Epic is known to delay seasons by a few days or even weeks, and according to recent leaks, we might be getting new challenges in that week. Season 6 might not release on the 16th after all, but it is very likely that we'll still get it in March.
The live event will be in the same week, possibly even on the 15th. This time, the live event will show us more of the Zero Point altering with reality, caused by humans trying to control it. Epic hasn't declared a live event yet, but even those are following the Chapter 1 pattern. We started getting one around Season 4 and we're getting one in each season since then.
Endnote
Season 5 has had a lot of content so far, and things are quickly getting better with all these new LTMs. Food Fight and Lava Rumble are likely to return in the coming weeks along with some ore crossover skins, and we can't wait to see more progression in the storyline!