Warframe Weapon Tier List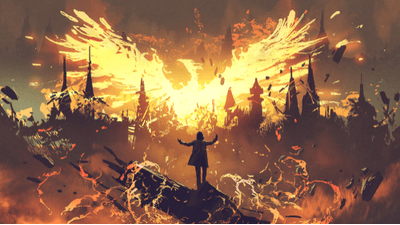 In the dangerous outskirts of space, having the right weapons can mean life or death in many situations. Warframe offers players a plethora of items that they can use to protect themselves and slay enemies. From precise single-fire pistols to moving offensive drones, there are a lot of potential armaments to include in your arsenal. The question that needs to be asked is, "Which of these weapons should you actually get?" This Warframe weapon tier list will help players figure that out.
Warframe Weapon Types
There are seven types of weapons in Warframe, but only five are used in close-up battles. Archwings and Railjacks are mainly used for space battles and exploration, so this tier list won't include those categories. This ranking guide will cover weapons used in face-to-face fights.
During their space incursions, Tenos can equip five armaments to their kit: a primary, a secondary, a melee, a modular, and a Robotic. Modulars are not specific items but rather a combination of several components, so finding the best ones for this type of weapon relies on the variety of certain parts. It would be hard to grade each element due to their niche role, so they will not be included in the list.
Each of these weapons has its own functions and sub-categories. Defining and explaining how each of these works will help gamers understand the tier list better. Here are all the offensive items in Warframe:
Primary
Primary Weapons are the main damage-dealing items in Warframe. They bring out the most firepower among every item in this game, so gamers should be very picky about this category. The primary weapon will influence whether your playstyle suits range battles or close-quarter fights.
Arm Cannon
Auto
Bow
Charge
Crossbow
Auto
Semi/Burst
Exalted Weapon
Charge
Launcher
Active
Auto
Charge
Semi-Auto
Rifle
Active
Auto
Auto/Active
Auto/Charge
Auto/Semi
Auto Burst
Auto-Spool
Burst
Burst/Semi
Auto
Charge
Held
Semi-Auto
Shotgun
Auto
Auto/Semi
Auto-Spool
Charge
Duplex
Held
Semi-Auto
Sniper Rifle
Charge
Semi-Auto
Speargun
Auto
Auto Charge
Charge
Semi
Secondary
Secondaries are your backup weapon when you don't have time to reload your primary or are out of ammo. Though it is your sidearm, you will use this item more often than you think. Fortunately, a wide array of secondaries are effective in various ranges.
Crossbow
Burst/Charge
Dual Pistols
Auto
Auto-Spool
Burst
Charge
Semi-Auto
Dual Shotguns
Auto-Spool
Semi-Auto
Exalted Weapon
Auto
Charge
Pistol
Auto
Auto/Burst
Burst
Charge
Duplex
Held
Semi/Auto
Semi/Charge
Semi-Auto
Shotgun Sidearm
Auto
Auto-Spool
Semi-Auto
Thrown
Active
Auto
Auto/Semi
Melee
When your guns fail and run out of bullets, you must make sure you have a trusty melee weapon to fall back on. Whether it be slashing or smashing, these items can get you out of sticky situations. For these armaments, you must see if you prefer slow, massive blunt damage, or fast-and-lethal slices.
Assault Saw
Blade and Whip
Claws
Dagger
Dual Daggers
Dual Swords
Exalted Weapon
Fist
Glaive
Gunblade
Hammer
Heavy Blade
Heavy Scythe
Machete
Nikana
Nunchaku
Polearm
Rapier
Scythe
Sparring
Staff
Sword and Shield
Sword
Tonfa
Two-Handed
Nikana
Warfan
Whip
Robotic
While you may be a skilled warrior, having a robotic companion to watch your back doesn't hurt. These machines are trusty sentinels who will attack anyone at your command to protect you. Whether it be slicing up enemies or riddling foes with bullets, Robotics are vital for any Warframe.
Glaive
Auto
Melee
Unique
Pistol
Burst
Rifle
Auto
Auto-Spool
Burst
Charge
Held
Semi-Auto
Shotgun
Auto
Sniper Rifle
Auto
All Warframe Weapons Tier List
S Tier
These weapons are the best of the best. You can never go wrong with using one of these prestige items. These armaments do not require much investment to be used in their optimal state. Using these weapons will ensure smoother and more efficient gameplay.
Primary
Nataruk
Kuva Zarr
Proboscis Cernos
Tenet Arca Plasmor
Kuva Bramma
Cedo
Phenmor
Rubico Prime
Bubonico
Acceltra
Ignis Wraith
Trumna
Tenet Envoy
Secondary
Kuva Nukor
Laetum
Sporelacer
Tenet Cycron
Epitaph
Pyrana Prime
Melee
Nikana Prime
Kroken Prime
Guandao Prime
Dual Keres Prime
Stropha
Glaive Prime
Reaper Prime
Redeem Prime
Venka Prime
Sepfahn
Praedos
Gram Prime
Innodem
Plague Kripath
Orthos Prime
Nami Skyla Prime
Lesion
Paracesis
Robotic 
A Tier
These items are overwhelmingly good in many aspects of the game. Though they aren't the top weapons, they can still be on par with them with little tweaks. These armaments are excellent choices if you don't care much about ultra-high-quality gear.
Primary
Kuva Kohm
Kuva Ogris
Kuva Chakkhurr
Corinth Prime
Stahlta
Fulmin
Vectis Prime
Phantasma
Felarx
Shedu
Astilla Prime
Tenet Flux Rifle
Amprex
Kuva Hek
Tenet Tetra
Scourge Prime
Ternora Prime
Opticor Vandal
Soma Prime
Kuva Tonkor
Strun Prime
Baza Prime
Tigris Prime
Aeolak
Tiberion Prime
Lenz
Vaykor Hek
Zenith
Kuva Quartakk
Arca Plasmor
Afentis
Exergis
Nagantaka Prime
Supra Vandal
Dread
Synapse
Kuva Hind
Secondary
Knell Prime
Kuva Brakk
Catchmoon
Aegrit
Tombfinger
Aksomatt Prime
Catabolyst
Vermisplicer
Tenet Diplos
Gaze
Rattleguts
Akjagara Prime
Euphona Prime
Tenet Spirex
Tenet Detron
Kuva Twin Stubbas
Athodai
Akstiletto Prime
Sepulcrum
Zakti Prime
Hystrix Prime
Pandero Prime
Staticor
Kompressa
Zymos
Akarius
Twin Grakatas
Atomost
Synoid Gammacor
Mara Detron
Magnus Prime
Prisma Twin Gremlins
Velox
Sicarus Prime
Cyanex
Akvasto Prime
Kuva Seer
Twin Kohmak
Melee
Tenet Grigori
Nepheri
Tenet Livia
Vitrica
Dokrahim
Pangolin Prime
Pennant
Kuva Shildeg
Silva & Agies Prime
Karyst Prime
Galatine Prime
Broken War
Balla
Plague Keewar
Hespar
Tenet Agendus
Skiajati
Cyath
Quassus
Tenet Exec
Vastilok
Verdilak
Ceti Lacera
Jat Kusar
Hate
Volnus Prime
Telos Boltace
Dual Kamas Prime
Ninkondi Prime
Dakra Prime
Destreza Prime
Fragor Prime
War
Rakta Dark Dagger
Tatsu
Prisma Dual Cleavers
Xoris
Dragon Nikana
Hirudo Slaytra
Dual Keres
Twin Krohkur
Keratinos
Sigma & Octantis
Venato
Tipedo Prime
Ohma
Tekko Prime
Arca Titron
Korumm
Scindo Prime
Robotic 
Deconstructo R Prime
Carrier
Helstrum
Dethcube
Djinn
Sweeper Prime
Nautilus
Cryotra
Deth Machine Rifle Prime
B Tier
These weapons are average, but they are still good weapons, nonetheless. They are good items to have until late game stages, until you replace them. However, you can spend more resources on them to make them as reliable as those in the S and A tiers.
Primary
Kuva Karak
Basmu
Ambassador
Sybaris Prime
Quellor
Cernos Prime
Lanka
Phage
Zhuge Prime
Prisma Grakata
Battacor
Panthera Prime
Komorex
Sancti Tigris
Corinth
Kohm
Sporothrix
Kuva Drakgoon
Glaxion Vandal
Boar Prime
Mutalist Cernos
Daikyu
Boltor Prime
Prisma Grinlok
Opticor
Stradavar Prime
Rakta Cernos
Astilla
Secura Penta
Hek
Strun Wraith
Ferrox
Quanta Vandal
Prisma Gorgon
Tenora
Convectrix
Dex Sybaris
Synoid Simulor
Zarr
Rubico
Telos Boltor
Scourge
Ignis
Vectis
Sobek
Vulkar Wraith
Paris Prime
Hema
Baza
Snipetron Vandal
Latron Prime
Nagantaka
Alternox
Secondary
Akbolto Prime
Aklex Prime
Spira Prime
Pandero
Vaylor Marelok
Pox
Lato Prime
Arca Scisco
Lex Prime
Hystrix
Lato Vandal
Vasto Prime
Kuva Kraken
Ocucor
Dex Furis
Hikou Prime
Akbronco Prime
Knell
Spectra Vandal
Twin Rogga
Quatz
Azima
Secura Dual Cestra
Ballistica Prime
Dual Toxocyst
Tysis
Prisma Angstrum
Nukor
Aksomati
Pyrana
Sancti Castanas
Zakti
Sonicor
Melee
Wolf Sledge
Ooltha
Halikar Wraith
Skana Prime
Machete Wraith
Dual Ichor
Caustacyst
Afterrax
Pathocyst
Venicres
Fang Prime
Sancti Maigstar
Pulmonars
Mios
Kogake Prime
Prism Skana
Guanddao
Arum
Spinosa
Twin Basolk
Cerata
Mewan
Dex Dakra
Dark Splitsword
Bo Prime
Zenistar
Dehtat
Jat Kittag
Cassowar
Rumblejack
Volnus
Mire
Synoid Heliocor
Rabvee
Galatine
Sarpa
Dual Ether
Secura Lecta
Prisma Obex
Gunsen
Vaykor Sydon
Krohkur
Kronen
Scoliac
Redeemer
Cobra & Crane
Ack & Brunt
Nikana
Cadus
Prisma Machete
Lacera
Kronsh
Furax Wraith
Ripkas
Ether Reaper
Orvius
Falcor
Korrudo
Ankyros Prime
Robotic 
Vulklok
Deconstructor
Bhaira Hound
Hec Hound
Lacerten
Oxylus
Akaten
Nychus Moa
Dorma Hound
Lambeo Moa
Prisma Burst Laser
Prima Laser Rifle
Artax
Para Moa
Batoten
C Tier
These weapons are on the low end of the spectrum. They are usable and reliable during the game's early stages, but they should be replaced when you get the chance. There are specific scenarios wherein these items excel better than other Tiers, making some niche equipment.
Primary
Braton Prime
Soma
Tigris
Tonkor
Braton Vandal
Karak Wraith
Buzlok
Latron Wraith
Argonak
Miter
Ogris
Attica
Torid
Grakata
Supra
Carmine Penta
Mutalist Quanta
Prisma Tetra
Gorgon Wraith
Burston Prime
Quartakk
Dera Vandal
Drakgoon
Zhuge
Paracyst
Sybaris
Stradavar
Tiberon
Boltor
Javlok
Simulor
Panthera
Cernos
Flux Rifle
Veldt
Glaxion Harpak
Karak
Grinlok
Snipetron
Penta
Secondary
Kulstar
Plinx
Rakta Ballistica
Telos Akbolto
Akmagnus
Embolist
Fusilai
Despair
Kohmak
Bronco Prime
Akzani
Akstiletto
Brakk
Stubba
Zylok
Cycron
Marelok
Aklex
Akjagara
Acrid
Dual Cestra
Akvasto
Gammacor
Stug
Detron
Twin Vipers Wraith
Spira
Magnus
Hikou
Twin Gremlins
Afuris
Furis
Lex
Vasto
Angstrum
Viper Wraith
Akbolto
Talons
Cestra
Spectra
Melee
Masseter
Silva & Aegis
Broken Scepter
Orthos
Amphis
Heliocor
Tonbo
Tipedo
Endura
Gazal Machete
Prova Vandal
Ninkondi
Pupacyst
Ghoulsaw
Gram
Dual Zoren
Boltace
Okina
Dual Raza
Serro
Kesheg
Dual Cleavers
Anku
Venka
Destreza
Ether Daggers
Kreska
Sibear
Dark Sword
Sheev
Jaw Sword
Karyst
Tekko
Heat Sword
Dual Kamas
Galvacord
Nami Skyla
Skana
Halikar
Shaku
Ether Sword
Dual Heat Swords
Glaive
Scindo
Dual Skana
Dark Dagger
Plasma Sword
Pangolin Sword
Sydon
Lecta
Prova
Nami Solo
Robotic 
Oloro Moa
Taxon
Deth Machine Rifle
Vulcax
Sweeper
Stinger
Laser Rifle
D Tier
Arguably the worst weapons that players can use. These items have questionable uses even in the early stages and will require tons of investments to be highly reliable. However, these armaments are good options for players looking to meme in the game.
Primary
MK1-Braton
MK1-Strun
Vulkar
Quanta
Boar
Paris
Strun
MK1-Paris
Gorgon
Tetra
Latron
Braton
Hind
Dera
Burston
Secondary
Castanas
Seer
MK1-Kunai
Sicarus
Kraken
Kunai
Bolto
Lato
Aklato
Ballistica
Akbronco
Bronco
Twin Vipers
MK1-Furis
Viper
Melee
Fragor
Kama
MK1-Bo
Ceramic Dagger
Obex
Cronus
Magistar
Heat Dagger
Machete
Fang
Bo
Kestrel
MK1-Furax
Furax
Kogake
Ankyros
Robotic 
Burst Laser
Tazicor
Multron
Make the Right Combinations
Having the best weapons doesn't mean they are the best set. You must be very picky about which items you combine or use. Having the proper setup will definitely improve your efficiency and effectiveness in battle.