Call of Duty Warzone Mobile Overview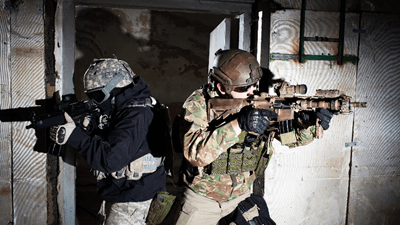 The Call of Duty franchise has maintained its popularity for years, and they're not stopping yet. Activision has released several titles for the series across consoles. From PC to Playstation, there's a Call of Duty game for it (save for the Nintendo Switch). The most recent of them is a mobile title called Call of Duty: Warzone Mobile.
Here is an overview of the game and its similarities and differences to the PC version.
Call of Duty Warzone Mobile Features
Being a mobile port, most mechanics from the PC version will also be available on phones. That means you can enjoy battle royales anywhere if you have an internet connection on your mobile device. There's even no need to create a new account! The app will support cross-saves, so you can continue your Battle Pass progress on whatever platform you use.
Of course, the game would be adjusted to be played on mobile devices. Controls would be a bit different, though the app would likely have controller support. Otherwise, the gameplay remains the same. You'll drop in a map, find weapons and fight enemies for the position of sole survivor.
Unfortunately, from the pre-release information released, it won't have the new DMZ mode or Plunder. They could still become available after an update, though. DMZ is a new mode on Warzone 2.0's release. It's an EFT-style mode, where you must loot and successfully exit the map to keep them.
Plunder is an old mode. Teams race to gather up 1 million in cash before other teams do. Unlike the battle royale mode, players respawn in after death. They have no need to fight in the Gulag for another chance.
Other battle royale modes, such as Resurgence and Limited Time ones, might be available. However, the pre-release information heavily features Verdansk, implying it would be the only map you can play on release. The others could come in a later update.
Pre-Orders Available Now!
While pre-registration has been available in the Play Store earlier, it has also come to the App Store. Upon reaching specific pre-registration milestones, everybody gets specific rewards upon the app's release. This includes:
A vinyl (Foes Flame) and emblem (Dark Familiar) at 5,000,000
The X12-Prince of Hell Pistol at 10,000,000
The M4-Archfiend at 15,000,000
The Ghost – Condemned skin at 25,000,000
At the time of writing, only the Ghost skin milestone has yet to be reached. It needs more registrations! With iOS pre-orders, there should be enough to get that reward.
Additional Information
This is the fifth mobile title for the franchise. It is also the first to have battle royale modes, as the others focus on campaigns or survival against zombies. It is the first to have cross-saves, at least in terms of the battle pass.
There's no definite release date yet. You can count it being in the next few months, though, as early as sometime in December to late January/early February next year. It could take a bit longer than that, however.
This opens up opportunities to play with friends even if they don't have a PC or console that could run the game. Granted, the only mode you can play would be a battle royale (not a team-based one), but the idea is there. The app would have cross-platform capabilities, which allow mobile players to connect to ones using PCs or other consoles.
Have Fun Playing Call of Duty Warzone Mobile!
This mobile version of the game might have a drop in graphics quality, but it will still deliver the same thrills and excitement as the other versions. It's not out yet. However, you can expect it in the coming month. Pre-registration for Android and Apple devices is available now. Doing so will give you release day exclusive items and skins!
With mobile capabilities, you can bring your game everywhere. It's certainly less restrictive than a desktop PC or a console. It can be challenging to adjust to the touch controls when you're used to controllers in consoles or the mouse and keyboard combo of PCs. The former can connect a controller to their phone, but many mobile devices don't support the combo.
Enjoy Call of Duty Warzone Mobile!