The Best, Fastest, and Most Powerful GTA V Planes and Helicopters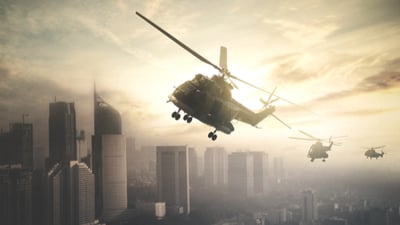 There's no denying the fact that one of the most appealing factors of GTA V is flying around in planes and helicopter and doing dumb, dangerous stuff. First off, there's no way that we can experience anything even remotely like it in real life if you're like the overwhelming majority of people, and even if you did have the chance, there's a good chance you aren't wanting to actually fly at 200 miles per hour in a jet.
If you did somehow get the chance, you probably wouldn't be shooting for crazy moves and trying to outdo your friends for insane stunts because your life would be at risk. Well, here's your good news! In GTA V, you get to fly to your heart's content! But, as anyone who's spent any time playing knows, there's a whole lot of helicopters and planes in the game (there's actually a list of over 500 vehicles and a good portion of that is the flying variety). So, where do you start? Which GTA V planes and helicopters are worth trying? Don't worry, mysterious reader! I'll take you through everything you need to know about the best ranked and most popular flying vehicles available to you today.
Will This List Apply to Everyone?
No. This list won't completely apply to everyone, and here's why: everyone has their own tastes. Some of these planes, for instance, have crazy fast top speeds, but they aren't great at handling. Others, meanwhile, might be terrifically easy to maneuver, but they aren't going to go that fast. If you're a speed junkie, you'll probably go with the first one, and if you're a trick move performer, my bet is that you'll gravitate towards the more controllable one.
Also, it's important to bring up aesthetic. Look, I'm a gamer too! I know the struggle of having to decide between something that looks cool and something that works the best. There are situations where I have chosen slightly 'worse' equipment because it matched my aesthetic. Some of these planes and helicopters look like they are military, while others look like civilian planes, or private jets, or antiques, or any number of thing. I've gone ahead and included a whole variety for you to peruse.
What are the Best GTA V Planes?
Let's jump right into it! What's the best plane in GTA V? I'll be taking you through a variety of strengths, appearances, and prices.
What's the Highest Rated/Most Popular of the GTA V Planes?
The big, sexy, awesome beast that is the Western Company Besra is a solid plane. It's pretty expensive, packing a bit price tag at $1,150,000, but since it can get close to 190 mph, it's pretty great all around.
What's the Big Money Plane?
Want a great plane that will show off your money? Go ahead and get the JoBuilt P-996 LAZER. It looks cool, can hit 195 mph, and is packs a price tag of $6,500,000.
What's the Best of the Fast GTA V Planes?
If you're a speed junkie, I'd recommend the V-65 Molotok. Though it is very fast (208ish mph), it is pretty easy to handle, and since it comes in at a little under $5,000,000, it's still relatively affordable.
What's the Best Novelty Plane?
I'd shoot for the Western Company Duster! It's a fancy old-style plane, it feels wonderful to fly, and since it comes in at a mild $275,000, it's something that you can get your hands on quickly. It isn't the fastest at 144 mph, but when you're puttering along, you won't notice.
What's the Best Helicopter?
Helicopters are a ton of fun! In my opinion, they're more fun than planes. Though planes have the ability to hurtle through the air at breakneck speed, helicopters boast so much more maneuverability. And, bonus points, a few of them are pretty dang fast too!
What's the Best Overall?
Overall? I'd go with the Akula. It's tried and true, boasting a $3,704,050 purchase price and reaching a top speed of a little under 160 mph. It's fun to drive, looks great and feels professional.
What's the Best Small Helicopter?
I'd try the Sea Sparrow. Though tiny, it does a great job, packing 154 mph and a price tag a little under 2 million. It's a fan favorite, partially because it looks ridiculous.
What's the Best Bulky Helicopter?
Though a tiny helicopter is fun, for heft, go with the Western Company Cargobob! First, you get to call it a Cargobob, which is pretty great, but it also looks like a flying tank. It's slow, coming in at about 100 mph, but it's worth it to feel the power while flying.
Conclusion on Best GTA V Planes and Helicopters
There you have it: the best planes and helicopters in GTA V! These vehicles are tried and true, highly popular, and immensely fun. Though I would always recommend giving everything a shot over time, these are the ones that I'd go after first. I've heard great things about each of them, flown a number of them, and otherwise, I feel confident in saying that you simply can't go wrong with anything included here today.
Until next time, get out there and have some fun!