New World Streamers Server List (How to Avoid Shroud, Or Not)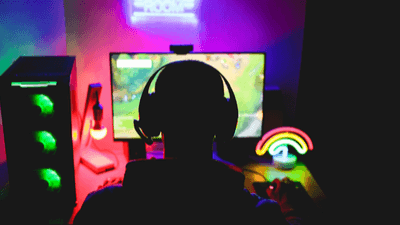 It's a picturesque day: the sun hangs low in the sky and a gentle wind sends Dandelion seeds shimmering in the air. You're taking your time hunting boars for Rawhide in Windsward, when you're ganked by a mysterious, bunny-hopping, crowd of jackasses who jump off into the distance as quickly as they appeared, leaving your traumatized corpse behind.
You've experienced the arrival of a streamer and their entourage, something MMO players have been dreading since Twitch took the internet by storm.
With New World's unexpected popularity, it's not surprising that streamers have taken to it like a flock of seagulls. On launch day, New World had close to a million concurrent viewers, being streamed by some of the biggest names on Twitch, including Shroud and Fextralife.
At its peak, it had 770,000 concurrent players, establishing itself, at least in the short term, firmly in the pantheon of other MMO heavyweights like ESO, FFXIV, and WoW. Being the new kid on the block, there will naturally be an overrepresentation of streamers playing the game as they try to figure out whether the game has lasting popularity, how it compares to other MMOs, or just whether it's fun or not. Whatever the reason, New World might not be the game for you if you want to avoid streamers and play in peace, thankfully, PlayerAuctions is here to help.
For those that either want to avoid these streamers or are, for whatever reason, seeking them out, we've compiled a list of some of the most popular streamers playing New World as well as which servers they play on:
Shroud
Shroud, of CS:GO fame, is arguably the most successful streamer in the world and has built a devoted following playing multiplayer shooters such as PUBG, Valorant, and Escape From Tarkov. He has decided to spend his time playing New World which will, no doubt, cause havoc on the server he has chosen.
Region: NA West
Server: Celadon
World Set: Westernesse Eta
Followers: 9,600,000
Stonemountain64
Stonemountain64, who is known for playing FPS games such as Call of Duty or Battlefield, has also been playing a lot of New World recently, and his viewers have made Valgrind almost impossible to create a character on. A server to avoid… Or wait in a queue to get a spot in the hopes of playing with Stonemountain64.
Region: NA East
Server: Valgrind
World Set: Arkadia Ultra
Followers: 3,300,000
Patife
Patife is a South American streamer who has shown that New World's popularity is not just limited to North America and English-speaking countries. The game has a rabid fanbase worldwide and the popularity of international streamers proves it.
Region: South America
Server: Tarnag
World Set: Nibiru Xi
Followers: 2,420,000
Asmongold
Asmongold, the troublemaking streamer from World of Warcraft, has made his shift to New World. Whatever server he and his fans end up on, (as it's not difficult to foresee bans in his future), will be a headache for other players.
Region: NA West
Server: Babiliary
World Set: Unknown
Followers: 2,400,000
Yoda
Yoda, the ex-League of Legends Professional, is now streaming New World to millions in Brazil.
Region: South America
Server: Aratta
World Set: Nibiru Rho
Followers: 2,100,000
Josh OG
JoshOG is a US-based streamer who primarily plays PUBG, Warzone, Escape from Tarkov and Apex: Legends before switching to New World.
Region: NA East
Server: Tritonis
World Set: Arkadia Psi
Followers: 1,700,000
POW3rtv
POW3rTV the professional Fortnite player for FNATIC is an Italian streamer who has started streaming New World to a massive, primarily Italian, audience, showing that there is a strong interest in New World in Europe as well.
Region: Central EU
Server: Jotunheim
World Set: Vanaheim Radial
Followers: 1,700,000
Rakin
Rakin is primarily a League of Legends streamer who has decided to make a jump to New World.
Region: South America
Server: Niraya
World Set: Nibiru Eta
Followers: 1,500,000
ZANOXVII
ZANOXVII, another Italian streamer, who plays a variety of games, is currently streaming New World. The amount of popular Italian streamers has meant that many servers of Central EU are difficult to impossible to create a character in.
Region: Central EU
Server: Inferni
World Set: Vanaheim Ultra
Followers: 1,300,000
Giant Waffle:
Giant Waffle who was primarily known for his Minecraft streams has shifted his attention to New World and brought many eager follows with him to the server of Heliopolis.
Region: NA East
Server: Heliopolis
World Set: Arkadia Psi
Followers: 866,000
These are just some of the many streamers who have made their homes in New World in recent weeks. If you want to play on peaceful, relaxing, or otherwise uneventful servers these are the ones to avoid. Or maybe, if you want a chance at internet fame by ganking Shroud, these are the servers to seek out. Let us know what other streamers are on what servers in the comments below!