How to Get Poke Balls in Pokemon Go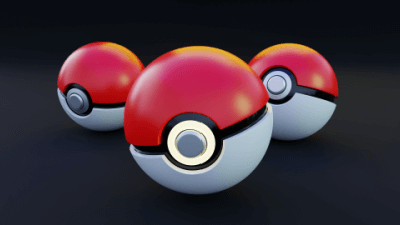 By |
October 20th, 2022
| Categories:
Pokemon
To say that Poke Balls are an integral part of the Pokemon experience is an understatement. They're an essential item in all Pokemon games, including Pokemon Go. Since the beginning, these simple yet effective items have been vital for increasing your Pokemon collection. Poke Balls have upgraded versions, too; we have the Great Balls, Ultra Balls, Master Balls, and many more. Since the whole point of Pokemon Go is to catch Pokemon while running about, you'll eventually run out of Poke Balls if you're not careful. Thankfully, there are many ways for trainers like you to increase your Poke Ball count.
Best Ways to Get Poke Balls in Pokemon Go
Spin PokeStops and Gyms
More often than not, you'll encounter a PokeStop or a Gym when you're out traveling. To get Poke Balls from these places, simply spin the medal-like pictures of their locations and see what falls out. If you're lucky, you'll often get a couple of Poke Balls, Great Balls, and possibly an Ultra Ball. However, this will depend on your level and if you've unlocked either of the other two Poke Balls.
Keeping visiting as many PokeStops and Gyms as you can, since if you only keep spinning the Photo Disc of the stop you're at, you won't get any rewards from it anymore for a while.
Do Your Field Research Tasks
Pokemon Go's quest system comes in the form of various research tasks, with some only available for a limited time. With that in mind, two field research tasks are available: regular and event-exclusive tasks. The regular field research tasks rotate monthly, while the event-exclusive research tasks are only available during active in-game events. Whatever research task you'll be doing, both types offer Poke Balls as rewards, so make sure to collect them!
Special research is another great way to get Poke Balls too. Once every few weeks, story events become available in Pokemon Go, which generally focuses on the current season you're going through. The research typically consists of simple tasks, like catching 5 to 10 Pokemon to get some free Poke Balls.
Always Check Your Weekly Progress
If you're busy spinning PokeStops and completing research tasks, you might have forgotten that Pokemon Go gives a weekly progress update. The game keeps track of how many kilometers you walk each week. You'll have to turn on Adventure Sync through your Settings to enable this function. You get rewarded for your efforts when you've traveled the maximum distance limit—of course, and this includes Poke Balls.
If you walk 5 kilometers in a week, you'll get 20 Poke Balls. Walking 25 kilometers a week will net you 20 Poke Balls, 10 Great Balls, and a Rare Candy/5 KM Egg/500 Stardust. And if you want to push yourself to the limits by walking 50 kilometers in seven days, you'll get 20 Poke Balls, 10 Great Balls, and 3 Rare Candies/5 KM Egg/10 KM Egg/1,500 Stardust.
You'll get the rewards once the weekly progress resets, so try "walking" as much as possible while having your Adventure Sync turned on.
Open Gifts
Another free way of getting Poke Balls is by opening Gifts. Once a day, you can open a Gift you've received from an in-game friend to raise your friendship level and get a plethora of items. There's a huge incentive to try to reach the Best Friend status in Pokemon Go, as it grants you and your friend a 100,000 XP bonus. By opening Gifts, you not only increase your level (the cap for the friendship level is 50), but you also get free stuff.
What comes out of a Gift is randomized; it can be anything from a couple of Poke Balls to a small amount of Stardust. You can open 20 Gifts (if you have 20 friends), but this limit is frequently raised to 30 whenever a special event happens.
Don't Forget Your Daily Free Box
Did you know you can visit the in-game store once daily to get a Daily Free Box? If you already did, you can skip this part. But if you didn't, you'll be happy to know you can sometimes get Poke Balls with it. However, you can also get a couple of potions only too. Much like when it comes to getting anything in Pokemon Go, everything is RNG-based.
Use Your PokeCoins to Get Poke Balls
If you've already done all the tips I've told you and you're still short on Poke Balls, maybe it's time to visit the in-game store to buy them using PokeCoins. Poke Balls are available in different packs, each having varying prices:
200 Poke Balls – 800 PokeCoins
100 Poke Balls – 460 PokeCoins
20 Poke Balls – 100 PokeCoins
PokeCoins is Pokemon Go's premium currency, which means you have to spend actual money if you want to get them. But you can also accumulate some PokeCoins by leaving your Pokemon to defend a Gym.
Catch 'Em All
With more Pokemon being added to Pokemon Go as the years go by, it's getting harder to keep track of your growing collection—especially if you're actively collecting. Thankfully, there are more than enough quests and tasks you can do to get Poke Balls without spending a dime unless you need to. As long as you keep tabs on the upcoming events and whatnot, you'll always have multiple ways of nabbing free Poke Balls.