An In-Depth OSRS Gear Progression Guide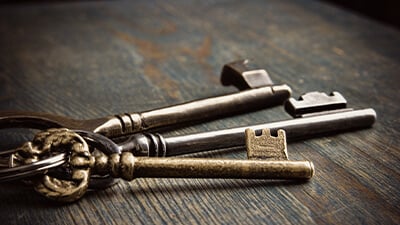 Gear progression in Runescape isn't as linear as other games within the same genre. Whether one is playing restrictive a build (like a pure), lacking wealth or attacking certain enemies will affect what gear you will use. Having said that, there is still a general progression path for OSRS Gear, and this guide will serve to point you in the right direction. You might also be interested in our RS3 gear progression guide.
If you're looking for cheap gear, head on over to our OSRS Items page. Or, stock up on some OSRS Gold to buy gear on the Grand Exchange.
What should I know about OSRS Gear?
As you level up, more gear will become available depending on your combat stats and quests unlocked. One unique aspect about RuneScape is that you can get max combat stats using cheap, low-level gear while sacrificing experience rates. You may mix or match pieces of gear at any level if you can't afford some upgrades, especially from raids or treasure trail drops.
Melee Gear Progression
Melee consists of 3-skills: Attack, Strength, and Defense. These skills can be trained in any order, although an emphasis should be put on Strength for end-game efficiency. It can take longer to train all three melee stats compared to range or magic, but it is ideal for end-game content.
Here is a general path on how you should upgrade your melee training gear:
1-20 Str/Att/Def:
Full iron without kite shield
Amulet of Strength
Event RPG – (fastest melee weapon with the best DPS until level 20 stats)
Iron boots
Combat Bracelet
20+ Str/Att/Def:
Full mithril with kite shield
Mithril Scimitar
Amulet of Strength or Fury
Mithril boots
30+ Str/Att/Def:
Full Adamantite with kite shield
Adamantite Scimitar
Amulet of Strength or Fury
Adamantite Boots
40+ Str/Att/Def:
Berserker helmet (at level 45 defense)
Fighter Torso or Rune Platebody
Rune platelegs or Fremennik kilt
Brine saber or Granite Hammer (at 50+ attack and strength)
Rune Boots or Climbing Boots
Rune Defender
Rune gloves or Regen Bracelet
Amulet of Fury or Strength
60+ Str/Att/Def:
Full obsidian armor: helmet, legs, chest plate
Obsidian Sword
Dragon Defender
Berserker Necklace
Imbued Berserkers' Ring
Barrows Gloves
Dragon Boots
Fire Cape
Note: The full obsidian set may be used until Level 99 if training at nightmare zone
75+ Str/Att/Def (End Game):
Serpentine Helm
Bandos Chestplate and Tassets
Avernic defender or Dragonfire Shield
Inferno Cape
Primordial boots
Amulet of Torture
Imbued Berserker Ring
Possible weapons include: Ghrazi rapier (stab), Abyssal tentacle (slash), Abyssal bludgeon, or Zamorakian hasta
Range Gear Progression
Range is a skill that has easier linear progression as accuracy and max hits go up within just one skill. Most high-level equipment will require a minimum defense level, which can be trained with long-range or with melee—which is more efficient. Otherwise, a pure can remain one defense and access most equipment with a few exceptions.
Here is a general path on how you should upgrade your range training gear:
1 Range:
Leather Armor: cowl, body, chaps
Combat Bracelet
Iron knives
Amulet of Fury or Glory
Ranger Boots (if your budget allows it)
20+ Range:
Studded Leather Armor: body (with 20 defense) and chaps
Coif
Amulet of Fury or Glory
Mithril Gloves (with RFD partially completed)
Frog Leather Boots (with 25 range and defense)
Mithril knives
30+ Range:
Maple Shortbow with steel arrows or higher
Full Snakeskin armor (with 30 defense): coif, body, chaps, boots, and vambraces
Amulet of Fury or Glory
40-70 Range:
Chromatic dragonhide armor: body (with 40 defense), chaps and vambraces
Rune Crossbow with broad bolts (with 55 slayer) or enchanted bolts
Ranger Boots or Snakeskin Boots
70 Range:
Black or blessed dragonhide armor: body (with 40 defense), chaps, coif, and boots.
Armadyl crossbow with enchanted bolts
Armadyl god book
Rune, Dragon or Barrows Gauntlets
Ava's accumulator
75-99 Range (End Game):
Armadyl Armor (with 70 Defense): coif, body, and chaps
Pegasian boots (with 75 defense)
Twisted Buckler (with 75 defense)
Necklace of Anguish
Toxic Blowpipe or Twisted Bow – This depends on the type of damage needed.
Imbued Archers' Ring
Barrows gloves
Ava's assembler
Magic Gear Progression
Magic is unique in the sense that the majority of gear affects the only accuracy rather than maximum damage. Because of this, players may hybrid defensive gear and neglect magic bonus with most PvM or PvP setups unless the target enemy has very high defense.
Here is a general path on how you should upgrade your magic training gear:
1 Magic:
Zamorak robe top & bottom
Gnome hat
Any elemental staff needed for your spells
Amulet of Magic
Seers Ring
20+ Magic:
Xerician robes (with 10 defense): hat, top, bottom
Ancient book or Broodoo Shield (with 25 defense)
40+ Magic:
Mystic Robes: Hat, top, bottom, boots, and gloves
Mystic elemental staves
Tome of Fire (50 Magic)
Iban's Staff (50 Magic)
60+ magic
Infinity Robes (with 25 defense)
Any God Cape (after completing The Mage Arena)
Mage's Book, Tome of Fire, or Malediction ward (with 60 defense)
Mystic elemental staff, Ancient Staff or Slayer's staff
75+ Magic (End Game):
Ancestral Armor (with 65 defense)
Arcane Spirit Shield (with 75 defense and 70 Prayer)
Any Imbued God Cape
Occult necklace
Imbued Seers Ring
Tormented bracelet
Eternal Boots (with 75 defense)
Weapons include: Mystic Smoke Staff, Kodai Wand, Staff of the Dead, or a Toxic Trident
Void Knight Equipment
Void knight equipment is considered to be end-game gear but it is circumstantial. It is used to tribrid between magic, range, and melee depending on which hood you wear. This can also be an economical alternative to high-end gear, especially for ironmen that can't really get rare drops using low-level gear.
The requirements for Void Knight gear is 42 attack, strength, defense, range, magic, and 22 prayer. There is a hood for each combat style that includes: melee (10% to damage), rage (10% to damage) and magic (45% to accuracy). Upgrading to Elite void gives prayer bonus and an additional 2.5% increase to magic and range damage.
Wrap-up
If you are going for max combat, or are aiming to unlock high-level content, this OSRS Gear guide will serve you well while leveling up. It should be noted that training slayer will sometimes require special gear, including the Slayer Helmet (I) when working towards a higher level. Otherwise, these gear setups should be more than apt for PvM or training.