Destiny 2 Beyond Light New Exotics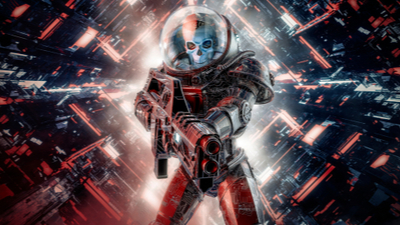 Destiny 2's new expansion "Beyond Light" is here with new maps to explore and a bunch of new weapons that you can collect. Along with new regions, new Beyond Light Exotics are what a lot of players have been looking forward to.
Exotics are powerful weapons in Destiny 2 that each have their own unique perk. These can be obtained through various methods such as long quests, random drops from eliminating enemies, mission rewards, vendors, and even simply on pre-ordering the season pass.
The Beyond Light New Exotics
In this article, we'll be taking you through all of the new Exotics from Beyond Light, along with their unique perks, how you can obtain the weapons, and what they specialize in.
No Time to Explain – The First of the New Beyond Light Exotics
No Time to Explain is an Exotic pulse rifle that is obtained by purchasing Beyond Light along with the season bundle. The weapon will be acquired once the Beyond Light campaign is over, and Bungie has also announced that everyone who owns Beyond Light will be able to obtain No Time to Explain later.
This pulse rifle has a unique perk that refunds rounds to your magazine on hitting precision shots or hits on enemies affected by Stasis. What makes this even cooler is that if you keep stacking, the weapon will spawn a portal before you. This portal will shoot bullets from another dimension. These perks (Time-Slip and Rewind Again), make it a super-fun and unique weapon. With great range and stability, this weapon really does well with long-range damage.
While it isn't at the top of the DPS chart, this weapon does very well with clearing out groups of enemies from a distance.
Eyes of Tomorrow
Eyes of Tomorrow is an Exotic rocket launcher that hasn't released yet. It will be obtained through the upcoming Deep Stone Crypt raid, although it is unclear if the weapon will be the final reward of the raid. This rocket launcher fires multiple tracking rockets at the same time. Getting eliminations with these will buff the damage of the next round of rockets, and so on.
The Lament
This Exotic sword hasn't been released in the game yet, although a long-drawn quest has been leaked already. Here are the steps to obtaining The Lament:
Find 3 dead Exos on Europa
Find a giant Exo which is hidden in an Exo facility
Eliminate 100 Vex and 20 special Vex enemies with a sword
Finish three missions: Reclaiming Europa, Dark Priestess, Empire's Fall
There is another challenge here that hasn't been fully leaked yet
Kill 60 Vex with finishers and find pieces of Lament in The Glassway (strike)
Take them to Banshee-44 and find the bunker on Europa
Finish the mission: Reforging the Past
Talk to Banshee-44 again
After all that. this weapon better be good, Destiny! The Lament Sword has a chainsaw side to the blade that can be charged to unlock its full power. This will let you rip through shields while also healing you, making it a great option for Nightfalls.
CloudStrike
CloudStrike is an Exotic Sniper Rifle that has a chance of dropping from Empire Hunts. These Hunts are unlocked after Varik's questline (post-campaign) and are all about hunting Eramis's officers. Completing them at a higher difficulty level will increase the chances of CloudStrike dropping.
CloudStrike boosts damage and drops lightning bolts of enemies whenever you land a precision hit. If you hit a lot of them rapidly, this effect will be augmented and a nice lightning storm will spawn, damaging both the original target and the enemies around it. This weapon is great for boss fights and for ripping through clusters of enemies by creating a lightning storm.
Duality
Duality is an Exotic Solar shotgun that you will immediately obtain after getting the Season Pass for Season of the Hunt. If you decide not to purchase, you can still obtain the weapon at Rank 35 for free.
As the name suggests, the Duality shotgun has a dual-shooting mechanism. When you ADS and shoot, it fires slugs, and when you hip-fire, it fires pellets. This makes it great for multiple situations: close and ranged combat. Its "On Black Wings" unique perk boosts your reload speed and precision damage on getting pellet kills as well.
Hawkmoon
Hawkmoon isn't available in the game yet, but it's likely going to be obtainable via its own quest in the Season of the Hunt.
Hawkmoon is an Exotic hand-cannon that first appeared in the original Destiny. Based on its mechanisms in that game, it is safe to assume that the Destiny 2 version of Hawkmoon will be very similar. In the original Destiny, this weapon randomly boosted damage on reloading. We will be finding out more about this weapon in the near future.
Salvation's Grip
Salvation's Grip is an Exotic grenade launcher that can be obtained after the completion of the Beyond Light campaign. A special quest for the weapon can be obtained from the Drifter, which can be completed through the following steps:
Defeat 10 Fallen Captains and Servitors on Europa
Eliminate enemies with Stasis abilities
Complete the Concealed Void Lost Sector
Talk to Drifter and obtain the Stealing Stassis mission
Once you've completed this mission, talk to Drifter again to obtain the Salvation's Grip grenade launcher.
As the mission is based on Stasis, the grenade launcher also deals with Stasis effects. Grenades shot using this launcher will generate Stasis Crystals that freeze enemies. This launcher can also be charged up to boost the number of crystals and freeze radius of each crystal. This makes it a great pick for crowd control and getting yourself out of sticky situations.
Endnote on the New Beyond Light Exotics
We hope our guide helped you understand the new Exotics in Beyond Light! Personally, I love the Salvation's Grip and No Time to Explain due to their unique perks. It's always great to see weapons that do more than just shoot, and these new Exotics are pretty creative and well-crafted.