Square Enix Plans to Aggressively Invest On NFTs for 2023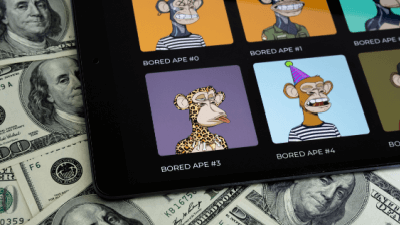 Last year, Square Enix President Yosuke Matsuda stated that blockchain gaming and NFTs (Non-Fungible Tokens) were the future. After that, 2022 happened, and it became crystal clear to most people—save for the diehard NFT investors—that this idea of owning a digital JPEG was a scam. It's sad to see the public continue to ignore this, but slowly we see more open their eyes to the reality. Funnily enough, despite all of this fiasco, Matsuda said that Square isn't going to give up on NFTs or blockchain games. They're planning to go all in for 2023 by doubling down on blockchain entertainment. It's certainly a way to get shot in the foot if you ask me.
Beloved IPs Were Sold to Invest in Blockchain Gaming
Square Enix strangely has high expectations regarding their IPs made by western studios. When they did a reboot of Tomb Raider, Square sold a total of 3.4 million units, but their expectations were sky-high—they wanted to sell 5-6 million units. That number is nigh impossible despite the massive grab of Tomb Raider to the audience; 5-6 million can only be possible if you have a game like Call of Duty.
Then, after 2013 when the previous company president—Yoichi Wada—stepped down, their other critically acclaimed titles, such as Deus Ex: Mankind Divided, Marvel's Guardians of the Galaxy, and Rise of the Tomb Raider, were released. However, none of the titles mentioned exceeded or even met the studio's expectations. The issue worsened when they put out Marvel's Avengers, a game that sold not even close to their expectations.
The immeasurable disappointments led to Square Enix making what's perhaps the most bizarre decision it could make. They sold Eidos Interactive and Crystal Dynamics to Embracer, a Swedish company, for 300 million dollars in May 2022. The goal? To invest in blockchain gaming and NFTs. Besides trading off the two studios for money, the sale also involved iconic IPs like Tomb Raider and "dormant" titles, including the Legacy of Kain.
New Year, Same Goal
In the yearly New Years' open letter published at the start of 2023, Matsuda stated that while Square will continue investing in various business domains, they'll also be more focused on NFTs and blockchain entertainment. The man pulled the same stunt for last year's letter. The interwebs more or less mocked it, and now, it seems Matsuda will be in for the same experience again.
What's baffling is that despite the industry already rejecting the concept of NFTs throughout these years, Square Enix remains stubborn in trying to make this happen. Even EA and Ubisoft called it quits when they saw they were getting nowhere back then.
Matsuda's references to NFTs aren't just passing sides either—they make up almost half of the whole damn letter. The Square Enix President waved away the market's collapse and said it was merely going through a volatility phase. It's the philosophy you hear from NFT simps: "people only hate NFTs in games because they don't understand them."
Much like last year, Yosuke Matsuda has no concrete plans and doesn't go into detail on how NFTs or blockchains will improve the video gaming experience for players. Instead, he just says a couple of buzzwords and empty ideas to paint a picture that NFTs weren't dying—that it was becoming more popular. After reading the lengthy New Years letter consisting mainly of abstract ideas, Matsuda just says that Square Enix now has multiple games powered by blockchain in development. This includes the recently announced Symbiogenesis, which was mired with controversy.
A Disaster in the Making
Blockchains, crypto, NFTs, and web3 aren't exactly dead yet as a concept, even though it's currently experiencing a decline. Still, it's been disaster after disaster if we're talking about its integration into video games. Any publisher that was even tangentially related to NFTs has been roasted so hard that it made the companies feel like they've committed a cardinal sin. We've seen the paragon of the potential of web3 gaming, Axie Infinity, collapse into a pile of mush. While Axie Infinity is just one example, Square seems to live in this fantasy world where none of these happened last year. They've deluded themselves into believing it's a fantastic idea to throw their money down into the NFT hole.
2023 Will Be An Interesting Year for Square Enix, To Say the Least
Square Enix will be in for an interesting year, and maybe not in a way that people will like. The company has spent the last six months shutting down its various online games, including the Final Fantasy VII battle royale spin-off (The First Soldier) and Babylon's Fall. The new IPs Square has been cranking out are a bit of a mixed bag these days. On one hand, they've gotten success from the likes of Octopath Traveler, and then on the other, the bitter taste of Balan Wonderworld. If you're thinking of investing in Square's digital worlds, I'd say take your money somewhere else.