Armored Core 6 Release Date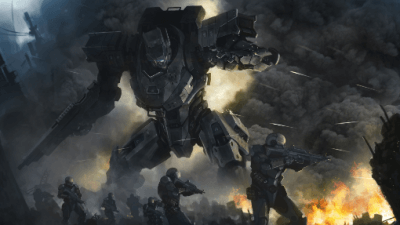 Armored Core is one of FromSoftware's iconic series that has not seen any significant action in recent years. After a decade since the previous title, the studio is finally set to release a sixth installation for the game. The release date of Armored Core 6 is August 25th, 2023. The development of Armored Core 6 was announced just months after the release of Elden Ring, and it was the third AAA title that the company mentioned back in 2018. The return of this popular series has sparked the interest of many fans, and a number of them are curious when they can get their hands on the game.  
Armored Core 6 Everything We Know
Like the previous games, Armored Core 6 will see players taking control of giant and tech-heavy mechas, which they will use to maneuver around areas to fight enemies. The popular FromSoftware series is set in an apocalyptic future where gamers fill the roles of pilot mercenaries that various corporations contract to fulfill requests. These missions range from fighting over scarce resources to taking out high-value targets. There will be a few changes in the sixth installation, so we can expect the same theme when it releases.
The narrative of Armored Core 6 will focus on the planet Rubicon 3, which is home to a strange substance. This mysterious element is an excellent source of energy, but the harvesting operations for it were abandoned after the planet it was found on was engulfed in flames. Decades later, corporations have reignited their interest in seizing control over this unstable matter, which will set the stage for Armored Core 6. Players will mainly be hired as mercenaries and be sent to Rubicon 6 to secure the valuable resources it contains.
While the lore of the sixth installation is pretty much the same, we should expect considerable improvements in the game's combat mechanics and graphics. According to FromSoftware, the upcoming 3D combat mecha action game will have players executing three-dimensional maneuvers in a three-dimensional stage. This type of gameplay is in line with the previous titles, so we would have to wait and see how Armored Core 6 will stand out.
Aside from the gameplay and campaign, players will also get to battle other people via multiplayer mode, wherein gamers can duke it out with their personalized mechas. To make the Armored Core 6 more interesting, these giant robots are highly customizable so that pilots can refit their rides depending on their preferences. Gear and equipment can be obtained by buying them with money earned from contracts.
Armored Core 6 Release Date
While there are no official confirmations yet, there is a leak circulating online that indicates the release date for the highly anticipated Armored Core 6. The is slated for release on August 25t, 2023/
There have been very few details surrounding the Fires of Rubicon following its announcement at The Game Awards in December 2022. The only information we can go on is that it will release in 2023, which aligns with the recent leaks. Following this announcement, FromSoftware has yet to provide us with further news about the game.
It was initially rumored that Armored Core 6 would be another Souls-like game, but the gaming company quickly shut it down as their 3D mecha action game will stay true to its original genre. The series predates Souls games by a decade, and developers are eager to bring back the well-established third-person mecha shooter. The game is expected to be available on other platforms as well since previous ones were mainly on Sony PlayStations.
While Armored Core 6 was only confirmed in 2022, FromSoftware has already teased players in 2018. During that year, devs announced that they were working on three AAA games, which would be released in the upcoming years. The first two were Sekiro: Shadows Die Twice and Elden Ring, which both met with outstanding success. The third AAA title is presumed to be the Fires of Rubicon since there are no other pending projects for FromSoftware.
Development of Armored Core 6 Was Delayed Due to Souls-like Games
The first ever Armored Core game was dated 25 years ago, with the last installment being released in 2012. The series has sat on the sidelines ever since while FromSoftware focuses its energy on other hit games that spawned the Souls-like genre. Over the years, gaming studios have forgotten about their iconic 3D mecha action games as they produce more and more titles.
According to producer Yasutaka Ogura, FromSoftware needed more time to juggle creating another Armored Core game and developing other projects. It was only recently that the gaming company found enough time and resources to devote to their former mainline entry since the majority of their titles, Sekiro, Dark Souls 3, and Elden Ring, have already gone live.
However, there have been rumors about another ongoing project of FromSoftware that is not related to the Armored Core series. It has been mentioned that it is more likely another Souls-like game, but it has yet to have a definite time frame. Many are expecting this pending game to be Blood Borne 2 or another Dark Souls installation, but FromSoftware has yet to issue any announcement about this project and any details regarding Armored Core 6, so players will have to wait and see.