Rocket League Haunted Hallows is Back and it's Better Than Ever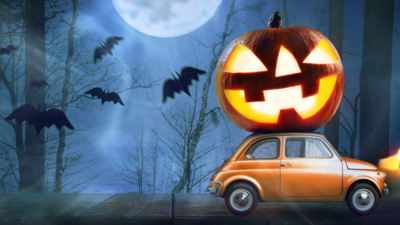 If there's something strange and it doesn't look good, then chances are there's only one group to call: The Ghostbusters! That's right, folks. Psyonix has infused Rocket League, our favorite soccer game of gravity-defying mean machines on four wheels, with ghostly flavors via the '80s fandom. All this to make the season even jollier—nay, and spookier in this year's Rocket League Haunted Hallows event.
While all holidays are indeed a time to be festive and merry, it's undeniable that there just isn't a holiday that's quite as fun as Halloween. So forget the cheers and joyfulness for now, and instead embrace the thrilling jeers and leg-pulling screams. Halloween has taken over Rocket League Ghostbusters style and we love what we're seeing!
What is Rocket League Haunted Hallows?
First introduced to Rocket League back in 2017, Haunted Hallows is a special event that has since become a yearly tradition for Psyonix's prized game. During the event, fans can take part in the spookiness of the season and collect Candy Corn at the end of their matches. And with their Candy Corn, they can redeem special Halloween-themed rewards. On top of that, players can also collect various Event Crates filled to the brim with exclusive content!
What challenges can we expect from Rocket League Haunted Hallows this time around?
As with every special event, 2020's halloween event comes with its own challenges. These vary greatly and have players unlocking specific items.
The items that are like hot commodities in this year's Rocket League Haunted Hallows include:
Ghost Trap (topper)
Stay Puft (topper)
Ghostbusters (player banner)
Ecto-1 (player banner)
Ghostbusters (avatar border)
Mood Slime (boost)
Ectoplasm (boost)
Slimer (topper)
Stay Puft (wheels)
Ghostbusters (wheels)
Golden Pumpkin (crate)
Up to when can we enjoy the event?
Since its rollout last October 14th, the question that has been lingering on every Rocket Leaguer's mind is up to when can we indulge in the Proton Pack-tinged flavor of this year's halloween event. Well, don't panic. You've still got plenty of time before the Rocket League Ghostbusters theme event finishes on November 11th.
Conclusion: Ghoul out while you can!
It's time to awaken, o' ye dark shadows! 'Tis the season of ghouls, creepy-crawlers, and all things that go bump in the night. So get your freak on and ready yourself for spine-tingling chills because Rocket League is sure to give you the most frightful delights with the return of a much-anticipated Rocket League Haunted Hallows!