Top Korean MMORPGs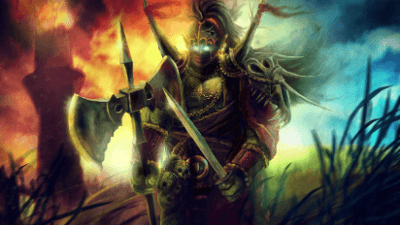 By |
May 30th, 2023
| Categories:
MMORPG
South Korean-developed games are renowned for their visually stunning design and unique art style. This distinction extends to some of the well-known MMOs originating from this region. If you're seeking online multiplayer games that offer exceptional gameplay and breathtaking visuals, then these top MMORPGs from Korea are worth considering:
Elyon
Elyon is an action-packed, free-to-play MMORPG created by Bluehole and published by Kakao Games. It was launched in Korea in 2021 and in the West in 2022. The game is set in a world where two factions, Vulpin and Ontari, wage war to control Elyon, a portal leading to paradise. Players can select from five classes: Warrior, Ranger, Mage, Assassin, and Artist, each with a unique playstyle and abilities.
Elyon offers a wide range of content, from intense PvP encounters to challenging PvE raids. The game's main attractions include its massive Realm versus Realm feature and open-world player-versus-player options. For those who prefer PvE, there are also raids and life-skill content to explore. Elyon boasts stunning visuals and great content, making it an excellent choice for players who enjoy action combat, PvP, and open-world exploration.
Lost Ark
Lost Ark is a free-to-play action MMORPG developed by Smilegate RPG and published by Amazon Games. It was released in South Korea in December 2019 and Europe, North America, and South America in February 2022.
Set in the enchanting world of Arkesia, a land teeming with magic, monsters, and adventure, Lost Ark allows players to choose from 15 classes and create unique characters, each with a distinctive playstyle and abilities.
Players can embark on thrilling adventures in Arkesia, battling formidable monsters, completing quests, and conquering challenging dungeons. They can also engage in exhilarating PvP battles, trade with other players, and even build homes.
Lost Ark stands out with its breathtaking visuals and extensive content, making it a fantastic option for players who seek action combat, PvP, and open-world exploration.
Black Desert Online
Black Desert Online, developed by Korean video game developer Pearl Abyss and initially published for Microsoft Windows in 2014, is a fantasy sandbox-oriented MMORPG. The game has garnered praise for its remarkable graphics, combat system, and world design.
The vast open world of Black Desert Online is brimming with diverse environments to explore, including deserts, forests, mountains, and cities. Players can choose from multiple classes, each endowed with unique abilities. The game features a skill-based combat system that enables players to create powerful attack combinations. Additionally, players can customize their characters' appearance and skills according to their preferences.
In addition to combat, Black Desert Online offers many other activities, such as crafting, trading, and fishing. Players can also partake in guild wars and sieges. The game receives regular updates introducing new content, such as classes, areas, and events.
With its impressive graphics, immersive combat system, and intricate world design, Black Desert Online enjoys a large player base. It is ideal for those seeking a challenging and rewarding MMORPG experience.
Blade and Soul
Blade & Soul, a free-to-play MMORPG developed by NCSoft, debuted in North America and Europe on January 19, 2016. This game is set in a wuxia-inspired world and features a fast-paced action combat system among its standout attributes. Players can select from various classes, each equipped with unique abilities.
Blade & Soul captivates players with its visually stunning graphics and captivating storyline. The game's combat system, characterized by its fast-paced and action-packed nature, rewards players for mastering their class's abilities. Additionally, the game offers many engaging activities, including dungeons, raids, and PvP battles. Blade & Soul is an exceptional choice for players seeking a challenging and gratifying MMORPG experience. Its stunning visuals, dynamic combat system, and compelling narrative make it a standout title.
Upcoming Top MMOs from Korea
Several highly anticipated MMORPGs from Korea have yet to be released, but their trailers and teasers have generated significant excitement. These games are poised to become some of the top Korean MMOs upon their launch. Here are the most eagerly anticipated online multiplayer titles that are coming soon:
ArcheAge
ArcheAge 2, the sequel to the popular MMORPG ArcheAge released in 2013, is an upcoming action MMORPG developed by XLGames and published by Kakao Games. ArcheAge 2 is set in the same world as its predecessor but takes place hundreds of years later. Players will explore a new continent, encounter new races and cultures, and engage in epic battles for world control.
ArcheAge 2 boasts an array of gameplay systems, including a seamless open world and fast-paced, skill-based combat. It also features player housing, allowing players to construct and customize their homes. The game fosters a player-driven economy, enabling gamers to engage in trade and commerce. Additionally, ArcheAge 2 offers a vibrant guild war scene that caters to hardcore PvP enthusiasts.
Lineage 3
Lineage 3, the third installment in the popular Lineage series developed by NCSoft, is an upcoming MMORPG scheduled for release in 2024. Set in the same world as its predecessors, Lineage 3 takes place hundreds of years after the events of the previous games. Players will explore a new continent, discover new races and cultures, and vie for world control. Lineage 3 is set to be available on PC, Xbox Series X/S, and PlayStation 5.
Ashes of Creation
Ashes of Creation, an upcoming MMORPG developed by Intrepid Studios, is slated for release in 2023. Set in Verra's magical and adventurous world, the game offers players the chance to explore vast landscapes, battle fearsome monsters, and undertake thrilling quests. Players can also build homes, craft gear, and trade with other players.
Ashes of Creation emphasizes player freedom, allowing individuals to choose their path and play style. Moreover, players have the power to shape the world itself, with the ability to build cities that become integral parts of the game world.
Ashes of Creation represents an ambitious project helmed by a passionate team of experienced developers. Though still in development, the game has generated substantial excitement among MMORPG enthusiasts. With its unique and immersive experience, Ashes of Creation is poised to captivate many players, making it a must-watch title for those seeking a new MMORPG adventure.
Dig Deeper
While these are some of the top MMOs from Korea, a vast array of other visually appealing titles are available in the region. Hardcore fans should consider delving deeper to discover games catering to their interests. There are many excellent and visually aesthetic options to explore, ensuring severy player can find their ideal MMORPG experience.