Gamers are Desperate for New MMOs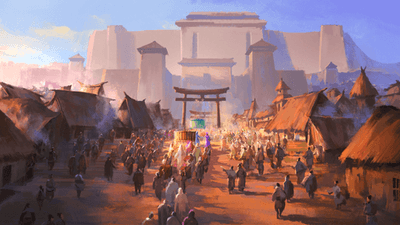 "MMOs are dead." is a constant refrain seen on many sites dedicated to the genre, but it's been a phrase that has never quite seemed correct in my mind. If you've spent any time in gaming circles during the last year, you've most likely stumbled across, if not played, newly released MMORPGs like Lost Ark, Final Fantasy XIV, and New World. These titles, along with the additions of the mainstays of the MMO genre that have yet to dissipate (World of Warcraft, Black Desert Online, Guild Wars 2, etc.), have helped to make MMOs more diverse and accessible in countless ways. I agree that the genre has passed its "golden age," but that doesn't mean it's "dead." From storytelling techniques, varying gameplay styles, and worldbuilding, as well as a wide range of subgenres within the broader space, you could even argue that the gaming market is desperate for new MMOs.
MMOs are not Dying
The MMO genre is more reinvigorated than ever thanks to recent developments. In the past year alone, we've seen multiple new MMOs hit the market or become playable in the form of alphas and betas. In 2021 alone, players are seeing quite a few in terms of new MMOs or the localization of popular Eastern MMOs in the West. Crowfall, one of the larger crowdfunded MMOs that was in development finally released, and three days after that, the Western version of China's largest MMO, Swords of Legends Online, hit digital shelves. In June 2021, we saw Phantasy Star Online 2 New Genesis hit Xbox and PC. World of Warcraft: The Burning Crusade Classic and The Elder Scrolls Online: Blackwood was also released during that time.
The amount of games that tout "MMO features" in an attempt to get a piece of the MMO pie continues to climb even higher. There's an allure to the genre that can't be replicated by any other multiplayer experience. MMOs are more than just simple multiplayer games – they have challenges, mind-blowing game worlds, and an expansive community. Heck, if you need another reason to look at the MMO landscape to see that it isn't "dead", Square Enix had to turn off the ability to buy their game because Final Fantasy XIV got too popular!
Amazon Brings Home the Banner
I can't deny that the MMO genre hasn't been as front-facing, lucrative, and culturally dominant as it is today compared to the early 2000s when gaming like Everquest, the original Guild Wars, and World of Warcraft all coexisted and competed with each other. While the market for new MMOs isn't as crowded as it was back then, it's just as prominent in the online zeitgeist. Surprisingly, the company that's behind the recent rise of the MMO genre is Amazon, which spent the better parts of the "pandemic era of gaming" dipping its toes into the waters of MMORPG development.
In 2021, the company released New World, an endlessly delayed and long-awaited title that was first announced in TwitchCon 2016 and was originally slated to release in May 2020. Just five months after the official launch of New World, they went on to publish Smilegate RPG's Lost Ark for Western audiences, adding another massive online title to its belt. In just the first week of Lost Ark's availability, the game became the fourth-most concurrently played game in Steam's history – only behind Dota 2, CS:GO, and PlayerUnknown's Battlegrounds (PUBG).
According to a report from Bloomberg in 2021, Amazon invests nearly $500 million per year into its game development prospects, and while that entire budget isn't being dumped into its current array of MMO titles, games like Lost Ark and New World have been carrying the banner for the studio over the last six months. Even more so since its initially planned flagship releases like Crucible and Breakaway – both of which were failed "products" – were canceled outright during their development process.
Beyond Amazon, the usual gaming giants such as Blizzard Entertainment, Zenimax, and ArenaNet continue to provide support for their trademark games by investing funds into expansions for their titles well after their initial releases. The most prominent one has to be World of Warcraft, which has featured a whopping eight expansions and two re-releases of previous versions of the game across its 18-year run. In 2020, its most recent expansion, Shadowlands, became the fastest-selling PC game of all time after selling 3.7 million copies in the first 24 hours of its release.
Final Thoughts
77% of 21st-century gamers say that video games helped them to stay in touch with friends, and no games have a staying power quite like MMOs, if done right at least. The truly online nature of MMOs allows for communities to thrive for years long after their initial releases. What's more, Amazon Games is currently showcasing that the demand for MMOs is very high, and the fanatics will soak up every new MMO that they can get their hands on. While MMOs might have gone a long way since its OG Everquest days, it's far from dead; I'd argue that it's in a pretty healthy place right now. Who knows? Maybe in the next 15 years, we'll all be playing games like New World and Lost Ark again for nostalgia reasons while another wave of upcoming MMOs keeps the genre alive.