E-Win Champion Series Ergonomic Gaming Chair – CPG Review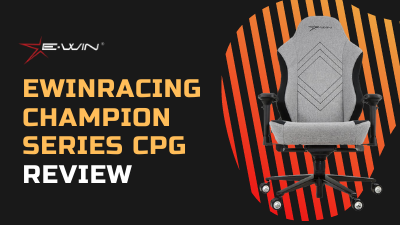 Having proper posture is important these days, especially when we live in a time where it's now normal to sit in front of a computer for more than eight hours a day. Chairs have been an integral part of many people's lives and give them a source of comfort or ease while doing either grueling or relaxing tasks. Now it's worth noting that some chairs are better than others. Some offer far better ergonomics than what a monobloc chair could, while others are more comfortable to sit on thanks to the material that it was made of. Gaming chairs have been around for a few years now and since their rocky start, they were able to expand and grow thanks to the demand from the consumers (mainly gamers), thus creating multiple gaming chair companies that want to achieve the same thing: to be better than the rest.
It's easy to assume that all gaming chairs are the same in terms of quality, but that's not the case. EWinRacing gaming chairs, specifically, are some of the best in the market that offer great value and quality… allegedly. Could the gaming chairs from E-Win possibly bring something new to the table that would make it an instant cope for anyone? Or will it be a hard pass? We're reviewing their Champion series ergonomic gaming chair to find out.
Don't forget, right now you can use our code – playerauctions – to get 25% off a gaming chair from EWinRacing!
Design: 9/10
The Champion series offered by E-Win features their more premium options, offering sleek and minimal styles that are perfect for gamers who want a chair that will fit in just about anywhere. With 6 different options available in the Champion series, there truly is something for everyone.
The model we took a look at is the CPG version, which, unfortunately, only has one available design. It's not a flash design, or particularly colorful. It's actually quite bland. But that's not a bad thing…
With gaming chairs growing in popularity, office application has become a major use for them, with many workers looking for the additional comfort that these chairs provide over traditional office or task chairs. As the only chair in the series using fabric over faux leather and coming in a simple design that allows the chair to fit into pretty much any environment, it's definitely the one of the best office gaming chairs out there.
And let's not forget, not all gamers like the colorful styles that we always see on gaming chairs, computer builds, hardware, and even desks. Many are looking for more relaxed designs like this, which aren't easy to come by in the world of gaming peripherals.
One area the CPG model does really stand out though, is in the wheel department. I mean, just look at them! They look like they belong on a Tron bike, and these hub-less wheels feel absolutely fantastic to glide around the room on.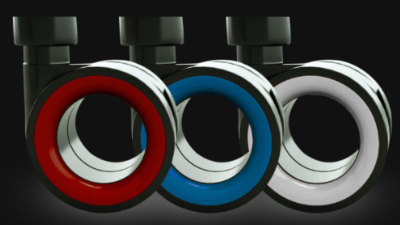 If you are looking for something a bit more flashy to go along with your RGB-inspired aesthetic, there are other options offered by E-Win across their 4 other series – Knight, Calling, Hero, and Flash.
The Knight series has all the usual designs that people would see in other brands which makes it perfect for those who are simply looking for something that's not over the top.
The Champion series, on the other hand, is one of the more premium options that offer sleek and minimal styles that are perfect for gamers that want their chair to fit different types of themes.
Meanwhile, the Calling series has looks that are similar to what people would see in racing simulator setups.
The Hero series are E-Win's so-called bestsellers out the bunch, seeing as the chairs from that line are sold out most of the time.
And finally, the Flash series are the highest-priced chairs offered and specialize in XL sizes.
Altogether, there's something for everyone when it comes to the variety of designs that E-Win has for its consumers. Offering a more minimalistic style in the shape of the Champion series CPG option is a nice touch – not everything has to look flashy and gamer-esque, after all.
Comfort: 9/10
If it's not comfortable, then it's not worth the time. Gaming chairs are generally known to be comfier compared to the cheap ergo chairs that people can buy for less than a hundred bucks and this is thanks to the fabric that they're made in. Consumers will be happy to know that E-Win's Champion series CPG is shockingly plush and feels luxurious to the touch thanks to their breathable, light, soft-weave fabric.
Most gripes that people tend to have with gaming chairs is that the pillows that they come with often cause discomfort or as if they're as hard as a rock, but thankfully, that's not the case for the gaming chairs of E-Win. Gamers and non-gamers alike can easily relax thanks to this chair's ergonomics. Ultimately, E-Win's CPG chair provides a comfortable sitting experience that you could easily recline and take a nap on. With additional support for one's back, neck, and shoulders, people who spend more than eight hours a day sitting on a chair for work or gaming reasons will be delighted to know it might not be too late to alter their horrible posture just yet.
Durability: 10/10
In terms of durability, E-Win's gaming chairs are great for the long haul for those who are looking to invest it into one of their chairs. While most of them consist of hard plastic, metal, and faux leather, the CPG model swaps out the leather for fabric. One problem we always notice with leather gaming chairs is that they do not fare well in the heat. The leather itself can start to stiffen, crack, and eventually come away and peel over time, a problem that gets worse the hotter it is. This model eliminates that problem with soft-weave material that stays soft and springy even after hours upon hours of use, giving this chair a huge advantage over it's faux-leather counterparts. This is a chair that will easily last for years to come.
With the ability to adjust the position and leveling of the chair on the fly and the durable materials that were used to build it, we can tell that E-Win has carefully crafted each of their products with care. It's no wonder that even the folks over at PC Gamer claimed that the chair they reviewed was better than most other chairs that they've tried over the years!
Verdict
Gaming chairs are a dime a dozen these days, but E-Win manages to shine amongst the many stars thanks to their bang for the buck chairs that can fit just about everyone. From the fantastic material to the hub-less wheels, excellent build quality, and comfort, their CPG Champion series ergonomic gaming chair truly is a force to be reckoned with and is a breath of fresh air in world of bright colors and faux leather. For those that are looking for a great deal on a gaming chair that's affordable, comfortable, and built like a tank, look no further than E-Win.